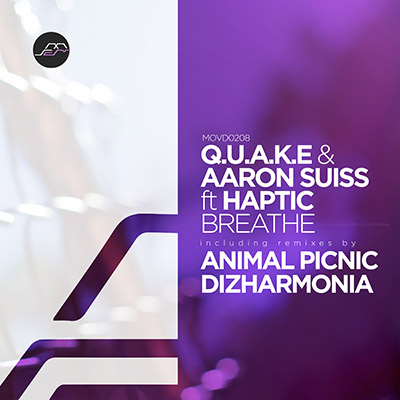 Artist: Q.U.A.K.E & Aaron Suisse ft Haptic
Title: Breathe / Pateni 
Remixers: Animal Picnic, Dizharmonia
Release Date: 26 October 2020
The latest release from Tash's Movement Recordings welcomes Q.U.A.K.E and Aaron Suiss to the label for their debut EP. Hailing from Israel respectively, Asraf Netanel make up the Q.U.A.K.E project. His decade-long achievements of the project has seen Nati build an impressive resume, highlighted by releases on Freegrant Music and Iboga Records. Based in Thailand and a regular on Matan Caspi and Stan Kolev's Outta Limits imprint is Aaron Suiss. Since first appearing in 2019, his electric brand of progressive music has been earning favour with the genre's tastemakers, while also performing well in Beatport's competitive sales charts. Having worked together once previously on a remix for Chrom Recordings, Q.U.A.K.E and Aaron now unite for their first original project entitled 'Breathe', alongside remixes from Animal Picnic and Dizharmonia.
For the title selection the trio have enlisted the vocal talents of Haptic. The Australian artist has been a fixture of the electronic underground for the better part of a decade, where his distinctive vocals have touched the hearts of many through releases on Be Free Recordings, microCastle, Suara and Sincopat. Now collaborating with Q.U.A.K.E and Aaron Suiss, the quartet present the peak flavored 'Breathe'. It's an intro of punchy beats and Haptic's inimitable vocals that set the stage for a rumbling groove, fiery percussion and fierce effects. Building tension across the first act, it's dramatic nature comes to full fruition during the main break, as Haptic's chops steal the air, resonating against a backdrop of gaseous atmospheres and warm bass swells; eventually melting down to a sequence of metallic arps as the pulsating groove drops for a dramatic conclusion.
The companion piece 'Pateni' finds the trio exploring the astral techno sensibilities they've become so loved for. It's warm, pulsating groove is perfectly carved, flanked with tightly wound arps, percussive flurries and cosmic effects. A dark and ominous first act preludes a tranquil yet tense break, where kaleidoscopic lines rise to prominence, before tension filled modulation cues a powerful drop and driving finale.
The first interpretation of 'Breathe' is provided by 'Animal Picnic' who make their label debut. Hailing from Spain, Daniel Banker and Iñigo de la Riera formed the Animal Picnic production moniker in 2012. The following eight years saw the duo go on a creative swell, showcasing their music on Diynamic, Einmusika, Last Night On Earth and Parquet Recordings. Now fresh off a contribution to Sti Vor Talent's 'Berlin:Blub' compilation, Animal Picnic debuts on Movement Recordings with a stunning take on 'Breathe'. Setting the piece in motion, a foundation of tight beats, rolling swells and bass plucks converge for a wall of momentous energy. Haptic's reprocessed vocals breathe beautifully over the cavernous framework, eventually leading to a section of luminous tones and cosmic effects. Symphonic and heartfelt in equal measure, a mind-bending break sits at the core of the piece, laced with pitch bending tones and waves of astral artefacts. Sensory saturating dynamics make for a profound moment as the break concludes, with Haptic's vocals resurfacing across a reflective final movement.
Rounding out the release and providing the second and final interpretation of 'Breathe' are Dizharmonia. Hailing from Athens, the Greek duo first appeared on the label in February of 2018 with their well received 'Trigonon' EP. 2019 then saw Dizharmonia return to Movement, delivering a stunning remix of Wielki's 'Excelsior'. Firmly established in the world of melodic house and techno, the duo lay claim to an impressive resume, highlighted by releases on Beatfreak Recordings, Steyoyoke, Stil Vor Talent and Timeless Moment. Now fresh off their latest Movement vehicle 'Alkahest', Dizharmonia returns with a stunning rendition of 'Breathe'. Through distinctive design and esoteric motifs, the Greek duo have crafted an excellent complement to the original. Astral sonics, symphonic arps and heady effects play off each other wonderfully, while Haptic's ghostly vocals drift through the framework. A tough yet groovy architecture anchors the engaging journey, while a timely break brings a dramatic swell which sets the course for a mind-bending finale. An inspired remix from Dizharmonia which caps off another excellent offering from Tash's Movement Recordings.