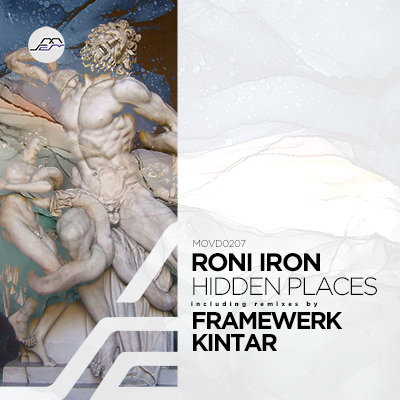 Artist: Roni Iron
Title: Hidden Places / Umatic Child 
Remixers: Kintar, Framewerk
Release Date: 12 October 2020
Supported by: Black Coffee, John Digweed, Audiofly, Nick Muir, Jerome Isma-Ae, Wurtz, Lonya, Miss Melera, Alex Preda, Jaap Ligthart, Rich Curtis, Rafa'EL, Forniva, Antrim, Nicolas Rada, Fernando Ferreyra, Dj Ruby, ao
The latest release from Tash's Movement Recordings welcomes Roni Iron back to the label for his debut EP. Based in Athens, the Greek artist has a two-decade long career in electronic music. As a staple in the Beatport, Itunes and Traxsource sales charts, Roni has showcased his music on Balkan Connection South America, Kingstreet Sounds, Nitegrooves, Cafe de Anatolia and Retrolounge Recordings. His Movement Recordings debut came in 2015 with a well received remix of 'Candy Lips' by T.Pals & John Teki, before going on to contribute original productions to the label's 'Modern Filosophy' and 'Technical Progress' collections. Now making a welcome return Roni presents his first Movement Recordings EP 'Hidden Places' alongside remixes from Kintar and Framework.
Beginning with the title selection Roni focuses on an amalgamation of cosmic creativites and peak time themes. Its warm, cavernous groove is perfectly contoured; buoyant and rippling as fiery electronics and charged rhythms create waves of momentum instantly. Haunting overlays add a unique emotional response before eventually stripping down into the main break. Indistinct vocals add a flair for the dramatic, before hopeful pads provide a bridge into an exhilarating final act. The companion piece 'Umatic Child' continues the electric ethos set by its predecessor. Energetic and mystical from the outset, the piece flows through a cross cultural vocal theme, elevating mood across the first act while driving arps and mind-bending effects fill in the framework. Void of any substantial break, a short interlude provides a dramatic pulse in the narrative, as percussive flashes steal the air before a striking re-entry cues a driving finale.
The first interpretation of 'Umatic Child' is provided by Kintar who returns to the label for his second appearance. Born in Argentina but now based in Spain, Jonatan Tesei first appeared on Movement Recordings in 2013 with a remix of 'Tsegene Machala' by Kosmas Epsilon & Dio S. His thirteen-year career has seen him showcase his music on MoBlack Records, Monaberry, Watergate Records and his own Sudam imprint. Now bringing his fresh sound back to Movement Recordings, Kintar delivers a deeper take on 'Umatic Child'. Remarkably fluid and undeniably modern, it's a mix that stays true to the rousing themes from the original, while adding space and depth through crisp design and electric rhythms. The vocal theme resonates brightly; wonderfully offset with fresh sonic artefacts and nostalgic chord changes. The main break sits at the emotional core of the track, expanding on the vocal narrative as the pulsating groove drops for an exhilarating final act.
The second and final interpretation of 'Umatic Child' is provided by Framewerk who make their label debut. Hailing from the UK, Darren James & Alec Milliner make up the Framewerk production duo. Long time progressive house fans may remember Darren and Alec as Manhattan who released more than a few gems from 1999-2003. More recently under the Framewerk alias they've rebuilt their long-standing Capital Heaven imprint while also showcasing their music on Beat Boutique, JOOF Recordings, ICONYC and Selador. Now making a welcome first appearance on Movement Framewerk deliver two inspired takes on 'Umatic Child'. Often splitting time between club-oriented material and exotic electronica, the UK duo opt for the latter here with their 'Pictures on a Screen' interpretation. A collage of broken beats, finely tuned percussion, sprawling vocal wails and spirited electronics unite for a gorgeous blend of melody and colour. Mountainous bass flows through poignant chord changes before an icy break and spoken word motif preludes an arp driven finale. Meanwhile, Framewerk's 'Umatic Chill' interpretation dials things down further with an elegant ambient take, highlighting the main themes across a gorgeous, cinematic style tapestry. Two stunning remixes from Framewerk, capping off what is another well rounded release for Movement Recordings.