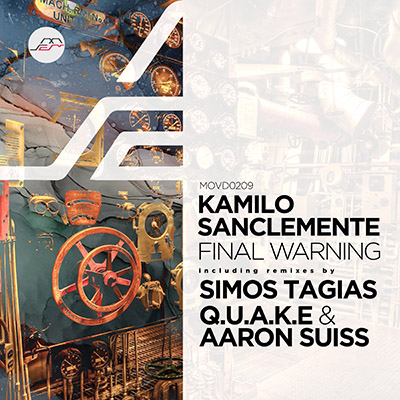 Artist: Kamilo Sanclemente
Title: Final Warning
Remixers: Simos Tagias, Q.U.A.K.E & Aaron Suisse
Release Date: 9 November 2020
Supported by: John 00 Fleming, Jerome Isma-Ae, Cid Inc, Chris Fortier, Miss Monique, Lonya, SEQU3l, Mariano Mellino, Fernando Ferreyra, Matias Chilano, Ewan Rill, Paul Deep, Newman, Unders, Subandrio, Nick Varon, Marcelo Vasami, Praveen Achary, Sides, Antrim, D-Compost, Amber Long
The latest release from Tash's Movement Recordings welcomes Kamilo Sanclemente back to the label for his debut EP. Long regarded as one of Colombia's foremost progressive house talents, the Cali resident has found a home on Anjunadeep, The Soundgarden, Einmusika and Parquet Recordings, while earning continued support from Hernan Cattaneo, Nick Warren and Guy J. Having first appeared on Movement in 2018 with a remix of Dousk's 'West of Dub', Kamilo now returns to the label with 'Final Warning' alongside remixes from Simos Tagias and Q.U.A.K.E & Aaron Suiss.
Although primarily known for his warmer, progressive minded creations, Kamilo explores a decidedly darker narrative on the title selection 'Final Warning'. Tight and rhythmic in all the right ways; fiery percussion, ethereal vocals and astral sonics descend over a machine gun style groove. Expanding across a one-minute centrepiece, devilish motifs steal the air, as trippy effects trail across the foundation, before getting washed away in a wave of punishing beats for a heady finale. The companion piece 'Alpha' follows a similar sonic ethos and sits as an ideal complement to 'Final Warning'. Its pulsating groove is perfectly contoured, adorned with tightly wound arps, dubbed out chord stabs and percussive flurries. Soulful vocals advance narrative, adding depth and emotion leading into the main break. Astral arps follow an unpredictable storyboard across the centrepiece, keeping senses on high alert as a rush of drums sparks a fluid drop and hypnotic final movement.
The lone interpretation of 'Final Warning' is provided by Q.U.A.K.E and Aaron Suiss who return to the label for their second appearance. Hailing from Israel and Brazil respectively, Asraf Netanel and Diogo Andrade make up the Q.U.A.K.E production duo. Their decade-long partnership has seen the duo build an impressive resume, highlighted by releases on Freegrant Music and Iboga Records. Based in Thailand and a regular on Matan Caspi and Stan Kolev's Outta Limits imprint is Aaron Suiss. Since first appearing in 2019, his electric brand of progressive music has been earning favour with the genre's tastemakers, while also performing well in Beatport's competitive sales charts. Having debuted on the label just last month with their 'Breathe' EP, Q.U.A.K.E and Aaron Suiss now return for their first remix. Taking a cue from the original, the trio reprocess the groove into a muscular wall of pulsating bass, as percussion and vocal fragments set the piece in motion. Astral sonics and heady effects play off each other across an exhilarating first act, perfectly setting up a kaleidoscopic break and huge finale.
The lone interpretation of 'Alpha' is provided by Movement Recordings artist Simos Tagias. The Greek producer has become a mainstay of the label roster since first appearing in 2014. As one of the most recognized names in progressive house, the Athens resident has showcased his music on Hernan Cattaneo's Sudbeat Music, Cid Inc's Replug Records, Beatfreak Recordings and Sound Avenue. Now fresh off the release of his recent Movement Recordings EP 'Molecular', Simos returns to the label with a powerful rendition of 'Alpha'. Clocking in at eight magical minutes, it's revamped groove and swing heavy percussion carries a powerful cadence. The vocals get utilized beautifully, striking at opportune moments across the first act, as wispy effects and emerging atmosphere fill in the framework. Expansive and perfectly timed, the main break brings a sense of calm, with drifting harmonics eventually leading to a rousing drop and driving finale. A powerful remix from Simos, rounding out what is a welcome return to Movement Recordings for Kamilo Sanclemente. Highly recommended.