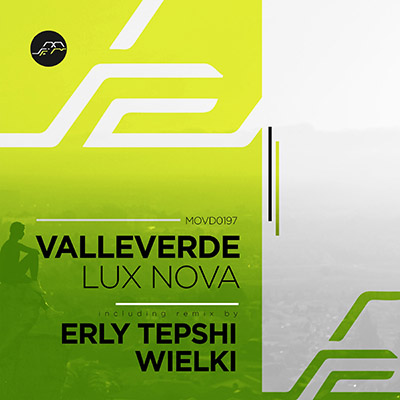 Artist: Valleverde
Title: Two Guys from Hell
Remixers: Erly Tepshi, Wielki
Supported by: Richie Hawtin, Eelke Kleijn, Max Graham, Undercatt, Aaryon, Rafael Cerato, Paul Anthonee, Steve Parry, Frank Sonic, Graziano Raffa, Praveen Achary, Mike Griego, Nishan Lee, Nicolas Rada, ao
The latest release from Tash's Movement Recordings welcomes Valleverde to the label for their debut EP. Joy Kitikonti and Maurizio Benedetta make up the Valleverde duo and have both enjoyed much success in their respective solo careers. Based in Italy, Joy Kitikonti has been a fixture of the electronic music underground for the better part of two decades. The Turin resident has showcased his music on Armada, Blackhole and Nervous Records. Similarly, Maurizio Benedetta has also become one of his country's most respected talents, programming music for many of Italy's premiere venues will also landing releases on Natura Viva and Tiger Records. Having worked together previously on a remix for Family Piknik Music, Joy and Maurizio now unite once more to form Valleverde, presenting their debut EP 'Two Guys from Hell' alongside remixes from Erly Tepshi and Wielki.
Beginning with the title selection Valleverde explores both astral and emotive narratives. Tough beats and a chugging groove sit at the foundation while tight arps and charged rhythms fill in the framework. Fluid and mysterious, smooth chord changes marry with percussive splashes leading into the break, before classy modulation and spastic synths unite for an exhilarating crescendo. The companion piece 'Lux Nova' follows a similar sonic ethos and sits as a perfect complement to its predecessor. It's warm, rolling groove is perfectly contoured, adorned with quirky electronics and ghostly vocal stabs. Astral arps drift across the framework while waves of percussion continue to build tension into the break. Dramatic yet euphoric, the centerpiece builds to a sonic sizzle as a rush of white noise sparks an arp driven finale.
The lone interpretation of 'Two Guys from Hell' is provided by Erly Tepshi who makes his label debut. The Italian artist has become a beloved figure in the melodic techno landscape in recent years. Long a favourite of Tale of Us, Erly's music has become a staple in the sets of the cutting-edge duo. Often times bringing new meaning to the term 'darkness', his music really is much more than the absence of light. Now following a year which featured a string of hugely in demand, unofficial remixes for the likes of Dido and Billie Eilish, along with releases for Armada, Be Free Recordings, Blaufield Music and Infinite Depth, Erly now debuts on Movement with a stunning rendition of 'Two Guys from Hell'. Through distinctive design and esoteric motifs, the Italian artist has carved out an excellent complement to the original. Astral sonics, fluttery arps and heady effects play off each other wonderfully, while a tough, groovy architecture anchors what is a hugely engaging journey.
The release concludes with Wielki returning to the label and providing the lone interpretation of 'Lux Nova'. The French artist has risen from an era of synthesizer pioneers, creating a sound that is both musically rich and rhythmically fresh. Always looking to tell a story within his productions, the Paris resident has already found a home on Armada's Electronic Elements and collaborated with Joris Delacroix. His Movement Recordings debut came in September of last year with the well received 'Excelsior' EP. Now making a welcome return to the Greek imprint, Wielki rounds out the release with a unique take on 'Lux Nova'. Drawing on the sensibilities of the original the Paris resident leans in a more cosmic direction, with a reworked groove and spacious rhythmic core. Vocal delays and astral arps sit atop a layer of tonal tension, perfectly setting up an expansive break and foreboding finale. An inspired remix from Wielki which caps off another excellent offering from Tash's Movement Recordings. Don't miss it.