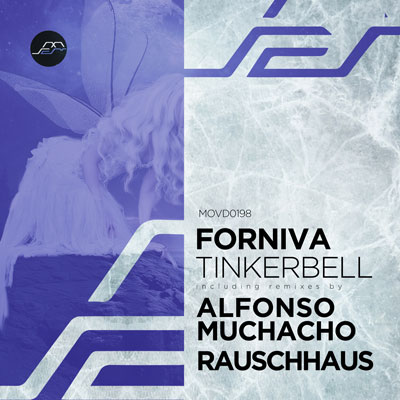 Artist: Forniva
Title: Tinkerbell 
Remixers: Rauschhaus, Alfonso Muchacho
Release Date: 25 May 2020
Supported by: Nick Warren , Undercatt , Chicola , MATAN CASPI , unders , Steve Parry DJ Mike Koglin , Haze-M , Citizen Kain , Matthias Schuell , ANIMAL PICNIC , Lonya , ao .
The latest release from Tash's Movement Recordings welcomes Forniva back to the label for his debut EP. The Bosnian artist first appeared on the Greek imprint in November of 2018 with a remix of Emi Galvan's 'Dopamine', while a contribution to the label's Technical Progress, Vol. 8 collection landed in December of the same year. February of this year then yielded a well received remix of Sean and Dee's 'Before the Storm'. Now calling Movement Recordings a comfortable home, Forniva returns with the 'Tinkerbell' EP alongside remixes from Rauschhaus and Alfonso Muchacho.
Beginning with the groovy, cutting edge sounds of the title cut it's clear Forniva has crafted some of his freshest work. Tough and dramatic across it's six-minute journey, it's a sensory delight full of groovy dance floor dynamics. As mounds of bass roll, spacey effects add an astral vibe, before eventually melting down into a break of emotive chord changes and poignant motifs. Building subtly, the beauty lies in the drop, powerful yet classy, it sparks a new effects narrative set for dance floor destruction. The companion piece 'Walking on Thin Ice' comes with an equally tough yet more quirky approach. Punchy beats and a warm, driving groove set an emotive mood early, with ghostly vocals and astral electronics only adding to its dramatic charm. The main break furthers its pensive appeal, as sheets of icey overlays and mind-bending electronics unite, resulting in a one-minute stretch of aural bliss.
The lone interpretation of 'Tinkerbell' is provided by Alfonso Muchacho who returns to the label for his second appearance. The UK artist has been a mainstay of the progressive underground since first arriving on the scene in 2013. With over 200 discography credits, Alfonso has showcased his music on Beatfreak Recordings, Beat Boutique and ICONYC, while earning support from the genre's leading guard in Hernan Cattaneo. Having made his Movement debut in May of 2019 with the 'Stranger Danger' EP, Alfonso now returns for his first remix. Opting for a distinctly modern approach, the UK artist reshapes the groove into a wave of tension filled bass. A tight rhythmic core coupled with organic percussion and fresh electronics set the stage for a series of deadly transitions and unpredictable shifts. Otherworldly in feel, it transfers energy into a section of tripped out designs and wonky modulation, before a third act of smooth chord changes and striking tonal themes seal its brilliance.
The lone interpretation of 'Walking on Thin Ice' is provided by Rauschhaus who makes his label debut. The German producer has been a highly regarded figure of the melodic house underground for the last two years, having showcased his music on Beatfreak Recordings, Eleatics Records, Einmusika Recordings, Timeless Moment and Stil Vor Talent. Now making a long overdue debut on Movement, Rauschhaus rounds out the release with a trippy take on 'Walking on Thin Ice'. Fluid and groovy in equal measure, it's a mix that carries the sensibility of the original, while adding a sleeker vibe through unique sonic artefacts and ethereal arps. Building beautifully into the break, muted beats carry tension across the centrepiece while percussive flurries and flashing arps unite for a cosmic crescendo. A stunning rendition from the much-loved German artist, rounding out another must have offering from Tash's Movement Recordings