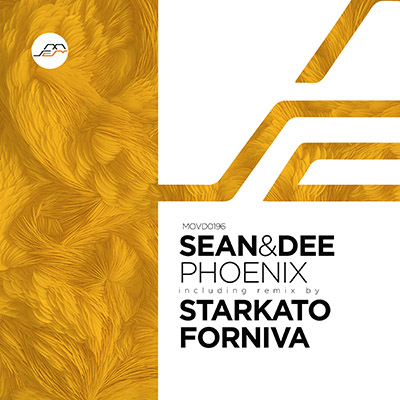 Artist: Sean & Dee
Title: Phoenix
Release Date: 2020-02-10
Supported By: Emi Galvan, Praveen Achary, Alfonso Muchacho, Jorge Martin, Ryan Sullivan, Leandro Silva, Mariano Mellin, Paul Thomas, Cheric, Rafa'EL, Max Graham, Nick Varon, ao 
The latest release from Tash's Movement Recordings welcomes Sean & Dee back to the label for their debut EP. The Italian duo first appeared on the Greek imprint in January of last year with a remix of 'Resurrection' by V-Cious & Trapped In Time. Releases on BeatFreak Recordings, ICONYC, Outta Limits and UV following, making for a hugely successful 2019. Now kicking off the new year in style, Sean & Dee present their 'Phoenix' EP alongside remixes from Starkato and Forniva.
Beginning with the title selection 'Phoenix' Sean & Dee move into dark territory with a punchy groove, charged rhythms and devilish stabs. Both foreboding and mysterious, it's flair for the dramatic grows as astral arps and luminous tones lead to an expansive break. The narrative then shifts with an emotive motif and glowing atmospheres providing a sense of calm, before getting washed away into a sea of dark beats and rippling grooves. The companion piece 'Before the Storm' finds Sean & Dee exploring the astral techno sensibilities they've become so loved for. It's tough, rolling groove is perfectly carved, adorned with wonky motifs and cosmic artefacts. Once again, a dark first act preludes an emotive break where kaleidoscopic keys take centerstage, before tension filled tones usher in a foreboding finale.
The lone interpretation of 'Phoenix' is provided by label artist Starkato who returns for his seventh appearance. 2019 proved to be a memorable year for the German artist, showcasing his music on Asymmetric Recordings, Balkan Connection, Beatfreak Recordings and ICONYC. Having collaborated with Movement boss Tash in September of last year, Starkato now returns with a stunning rendition of 'Phoenix'. Setting the piece in motion, a foundation of tight beats and percussive waves merge for a wall of momentous energy. Luminous tones complement the rippling foundation, while piercing stabs steal the air at timely moments. Smooth chord changes and subtle modulation continue to elevate emotion, before a well-crafted break seals it's brilliance.
Rounding out the release and providing the lone interpretation of 'Before the Storm' is Forniva who returns to the label for his second appearance. The Bosnian artist first appeared on the Greek imprint in November of 2018 with a remix of Emi Galvan's 'Dopamine', while a contribution to the label's Technical Progress, Vol. 8 collection landed in December of the same year. Also laying claim to releases on Asymmetric Recordings, MNL, One Of A Kind and Soundteller Records, Forniva now returns to Movement with an excellent remix of 'Before The Storm'. Backed by a warm, chugging groove, the Bosnian artist's finely tuned percussion and grandiose atmospheres appease the senses. Clustered drums and a wonky take on the lead theme add a flair for the dramatic, while emotive chord changes set up the main break perfectly. Ghostly and tense, it's a cavernous interlude, flowing through cinematic soundscapes, before a tasteful drop sparks an exhilarating finale. An inspired remix from Forniva which rounds out another must have release from Tash's Movement Recordings.