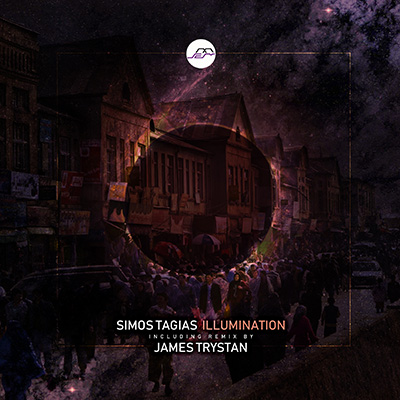 Artist: Simos Tagias
Title:  Illumination, Kabul
Remixer: James Trystan
Release Date: 11 November 2019
Supported by: Hernan Cattaneo, Paul Thomas, Eelke Kleijn, Cid Inc, Darin Epsilon, Jos & Eli, Steve Parry, Jonas Saalbach, Paul Anthonee, EdOne, Marc DePulse, Miss Monique, Matthias Schuell, ao
The latest release on Tash's Movement Recordings welcomes Simos Tagias back to the label for a brand new EP entitled 'Illumination'. The Greek artist has become a mainstay of label roster with this being his tenth appearance. As one of the most recognized names in progressive house, the Athens resident has showcased his music on Hernan Cattaneo's Sudbeat Music, Cid Inc's Replug Records, Beatfreak Recordings and Sound Avenue. Now fresh off a remix for Praveen Achary's Juicebox Music, Simos makes a welcome return to Movement Recordings with a new EP alongside a remix from James Trystan.
Beginning with the title and showcase piece 'Illumination'' Simos crafts a proper slice of astral techno. Tough beats, electric rhythms and raspy stabs begin the nine minute journey. Senses heighten as elastic designs and cosmic effects unite across a devilish first act. Percussive flurries and metallic melodies further advance the narrative, flowing effortlessly into a dramatic break. Sinister in tone, the interlude saturates your senses with a cascading lead theme, opening up with each successive loop, before reaching an exhilarating crescendo. The companion piece 'Kabul' follows a similar sonic ethos, making it a perfect complement to its predecessor. Sitting at the heart of the piece is a tightly wound groove and distinctive percussive narrative. Ominous and intriguing, it's arcane nature is inviting as growling swells, astral arps and subtle vocal fragments make for an incredibly heady journey. The storyboard becomes fully realized in the main break, melting down to a cosmic collage, before waves of beats and percussion spark a powerful third act.
The lone interpretation of 'Illumination' is provided by James Trystan who makes his label debut. The UK artist continues to be one of the melodic techno scenes most steadfast producers, having racked up an impressive string of discography credits, most notably for Bedrock, Eleatics, Steyoyoke and Suara. Now making his first appearance on Movement Recordings, James provides a powerful rendition of 'Illumination'. Always a creative remixer, James reinvents the main elements into something decidedly more poignant, sitting as an ideal complement to the original. Atop a muscular groove, comes buzzing synths and hypnotic arps. It's unique contrast of grit and shimmer results in a remarkable sonic marriage, one which makes for a hugely energetic yet quite tasteful journey, elegantly peaking through a dramatic break, before a buzzing final act puts a cap on this cosmic gem. A stunning remix from James which rounds out a hugely successful return to Movement Recordings for Simos Tagias.