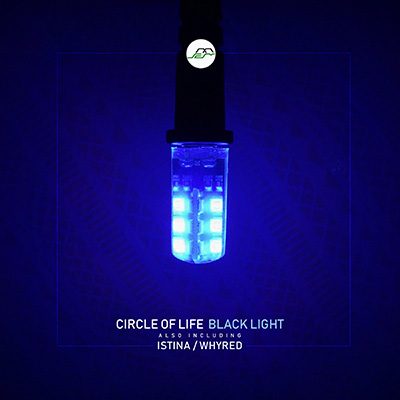 Artist: Circle of life
Title:  Black Light EP
Release Date: 28 October 2019
 Supported by: Chicola, Aaryon, unders, Audio Junkies, Paul Hazendonk, Chris Fortier, Max Graham, Tash, Paul Anthonee, Dale Middleton, NekliFF, Mike Griego, Nicolas Rada, Sonic Union ao
The latest release from Tash's Movement Recordings welcomes Circle Of Life to the label for his debut EP. Based in Belgrade, the Serbian artist owns an impressive discography highlighted
by releases on Beat Boutique, BeatFreak Recordings, Suara and Sudbeat Music. His unique combination of progressive house and techno has also caught the attention of world class DJs Hernan Cattaneo and Nick Warren. Now making his much anticipated Movement Recordings debut Circle Of Life presents his 'Black Light' EP.
Known for his peak time creations, Circle Of Life continues to explore that ethos on the title cut 'Black Light'. Dark and dramatic from the outset it's DJ friendly intro is complemented with tension filled percussion and haunting vocal edits. A short break brings astral effects and pulsating arps, before dropping out into a perfectly contoured low end. Warped and wonky in all the right ways, it's crunchy rhythms add mightily to the narrative, while ghostly overlays bring just the right ethereal touch. Across two breaks the second act is a lesson in building drama and tension, with devilish modulation and timely transitions uniting for a deadly drop and powerful finale.
The second selection 'Istina' follows a similar sonic ethos but with a greater techno sensibility. Beginning with punchy beats and crisp design the piece moves forward with a chunky momentum. It's foreboding groove gets nicely complemented with frayed percussion and icy pads, before modular swells add further fuel to the rhythmic fire. Beautifully crafted, tasteful tones highlight the break, fully saturating your pleasure centres while shifting energy onwards to an exhilarating third act.
The release concludes with 'Whyred' which presents a deeper more afro inspired storyboard. Beginning with exotic drums and cross cultural motifs, it's organic appeal quickly captures your imagination. Waves of astral synths descend over the framework, eventually giving way to a fresh rhythmic theme and buzzing tension. Percussive flurries continue to bend the narrative as fiery overlays trail into the final break, sealing it's dramatic appeal. There is also an instrumental version included for the less vocally inclined. It rounds out a superb Movement Recordings debut for Circle Of Life, continuing what has been an incredible year for the talented Serbian artist.