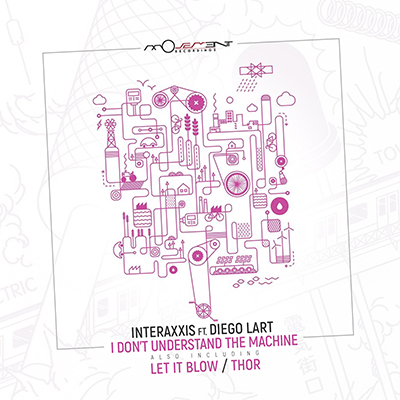 Artist: Interaxxis
Title:  I don't understand the machine
Including: Let it blow, Thor
Release Date: 16 July
Supported by: Hernan Cattaneo, Nick Warren, Richie Hawtin, Eelke Kleijn, Petar Dundov, Kollektiv Turmstrasse, Paco Osuna, Edu Imbernon, Luigi Madonna, Cid Inc, Jamie Stevens, Chicola, Tripswitch, Be Svendsen, Anthony Pappa, Animal Picnic, BOg, Paul Thomas, Kintar, Framewerk, Praveen Achary,  Paul Anthonee, Melody Stranger, Huminal, ao
The 166h release on Tash's Movement Recordings welcomes Interaxxis back to the label for a brand new EP. At the centre of Argentina's progressive house scene lies Emiliano Folgar and Martin Kazez, aka Interaxxis. Continued support from Hernan Cattaneo, Nick Warren and Guy Mantzur, along with releases on Hope Recordings, Replug Records and Plattenbank, have solidified the duo's place amongst the genre's elite. After first appearing on Movement in June of 2017 with a remix of Li-Polymer's 'Phoebus', Interaxxis now returns for their debut EP entitled 'I Don't Understand The Machine'.
Beginning with the title track, Interaxxis brings vocalist Diego Lart into the fold for what results in an esoteric dance floor bomb. On a back bone of chugging beats and rippling grooves comes electric synths and astral effects. Vocal motifs get teased in with percussive waves before a short break peaks anticipation for the full vocal. Unique and compelling, it's Diego's ghostly wails that complete this mystical journey.
The EP's second selection 'Let It Blow' is a dark, psychedelic stormer geared for peak time play. It's chuggy groove is immediately infectious while a strong percussive complement adds immense drive. The break brings a more sinister feel, shifting energy into an acid fuelled rhythmic section, perfectly setting up another stunning vocal from Diego to close out the third act.
The EP concludes with 'Thor' which showcases the duo's knack for crafting evolving, psychedelic sound stories. Hypnotic and trippy in equal measure it's a wonky acidic lead which ultimately shapes the track. Working through a never ending series of unpredictable modulation it's a delight for both the mind and feet, capping off the EP with a wonky-tech flair. Interaxxis have been hotly tipped and this collection further solidifies that as they continue to expand their creative boundaries and sonic palette.