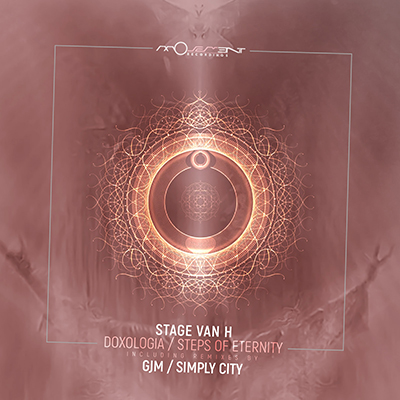 Artist: Stage Van H
Title:  Doxologia / Step of eternity
Including: Simply City, GMJ
Release Date: 30 July
Supported by: Hernan Cattaneo, Chicola, Petar Dundov, Luigi Madonna, Marc DePulse, Paco Osuna, Lonya, Anthony Pappa, Gai Barone, Aly & Fila, Be Svendsen, BOg, Betoko, Olderic, Interaxxis, Be Svendsen, Paul Hazendonk, Li-Polymer, Simos Tagias, ao
Tash's Movement Recordings welcomes Stage Van H back to the label for a brand new EP entitled 'Doxologia'. The Dutch born Greek, UK based artist last appeared on the label in November of 2016 with a remix of Fernando Olaya's 'The Cube'. 2018 has proved to be the best year on record for Stage, having continued to push his timeless progressive sound with releases on Balkan Connection and Just Movement. Now making a long overdue return to Movement, Stage presents a brand new EP alongside remixes from Simply City and GMJ.
The title and showcase piece 'Doxologia' leads the release off with a dark, mysterious vibe. Anchored by a thick, chunky groove it's an evolving atmospheric storyboard which first captures your imagination. Delicate chord stabs and meadoring motifs just add to it's enigmatic nature before eventually melting down to a bed of gaseous electronics, perfectly setting up a powerful re-entry. The companion piece 'Steps of Eternity' finds Stage crafting a moody, broken beat number which shows a rarely seen side of his sonic repertoire. Tough, full bodied kicks, shuffling percussion and a murky atmospheric complement make for a mystical vibe, perfectly complementing 'Doxolgia'. Not without emotive moments, the piece transitions into a piano led section before cascading themes lead the journey home.
The first interpretation of 'Doxolgia' is provided by Simply City who is making his label debut. Hailing from Chile but now based in Montreal, Cesar Romero aka Simply City has become a fixture in the city's burgeoning nightlife, earning a spot as one of Stereo's resident DJs. On the production front he owns releases on Hernan Cattaneo's Sudbeat Music and Nick Warren's Hope Recordings. Now making his first appearance on Movement he delivers a deadly rendition of 'Doxolgia'. Anchored by tough, punchy kicks and a growling, subterranean groove it commands a large presence early. Rife with psychedelia, trails of effects and spaced out motifs surround the framework, before the rhythmic core locks on for a truly meditative journey.
The second and final interpretation of 'Doxolgia' is provided by GMJ who is also making his label debut. The Australian artist is fresh off a release on Hernan Cattaneo's Sudbeat Music where he teamed up with Tripswitch on 'Etana's Dream'. Also owning releases on Anjunadeep and Replug, GMJ now makes his much anticipated Movement Recordings debut. Sitting as a lovely complement to the original GMJ takes the edge off for a floaty yet still incredibly groovy interpretation. Buzzing synths add just the right amount of tension as they cut through melodic clouds and effervescent textures, before reaching a heavenly apex following a timely break. Superb remix from GMJ which rounds out an intriguing EP from Stage Van H, who shows a darker and more electronica inspired side of his sonic palette.