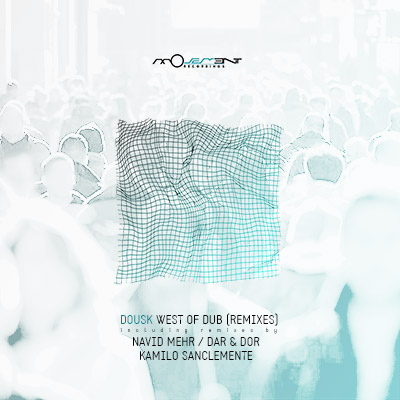 Artist: Dousk
Title:  West Of Dub (Remixes)
Remixers: Matias Chilano, Navid Mehr, Kamilo Sanclemente
Release Date: 25 June
Supported by: Maceo Plex, Richie, Hawtin, Kollektiv Turmstrasse, Paco Osuna, Dubfire, Luigi Madonna, Gabriel Ananda, Tom Novy, Ramon Tapia, Chris Fortier, Aly & Fila, Andy Moor, D-Nox, Township Rebellion, D-Formation, Betoko, Paul Anthonee, Ziger, Cid Inc, Djuma Soundsystem, Dousk, Simos Tagias, Chicola, Interaxxis, Tripswitch, Darin Epsilon, Sezer Uysal, Be Svendsen, Blancah, Lane 8, Lonya, ao
The latest release from Tash's Movement Recordings finds the label revisting Dousk's 'West Of Dub' EP for a new set of remixes. Originally released in October of last year the three track offering found the Greek artist at his creative best with an immense sonic scope that could only be defined as borderless. Now as we enter the 2018 summer season, Movement invites Navid Mehr, Kamilo Sanclemente and Matias Chilano to reinvite the tracks.
The release begins with Navid Mehr making his Movement Recordings debut. The Canadian artist has been one of the most sought after producers in the progressive underground since going solo in 2014. Now with a discography that includes releases on Asymmetric Recordings, Proton Music, Sudbeat Music and Sound Avenue, Navid makes his Movement debut with a stunning interpretation of 'West of Dub'. The Canadian's versatility really shines here with a creation that is deep, funky and incredibly musical. Rooted by bulbous bass tones and a rolling rhythmic core it's a processed vocal loop which quickly captures your imagination. Fluid and hypnotic in equal measure it leads to a short but grandiose break before shifting energy into a serene finale.
Next up and also making his Movement Recordings debut is Kamilo Sanclemente. The Colombian artist has been at the top of everyone's most hyped list with massive support from Hernan Cattaneo, Nick Warren and Guy J, along with a long list of high Beatport chart placings. Now following releases on Clubsonica and Manual Music, Kamilo delivers a massive remix of 'Yo'. It's warmth and drive are immediately inviting, evoking a pure progressive feel and buzzing with effervescent qualities. Spacey effects, indistinct vocal elements and a dreamy lead line converge for a massive moment during the main break, before getting stripped away for a classy drop and groovy finish.
The release concludes with label artist Matias Chilano returning for his third appearance. The Argentinean artist delivered his first EP for the label in March of this year and also owns a discography with releases on Balkan Connection, Sound Avenue and Soundteller Records. The long time Hernan Cattaneo favourite is on point once again as he provides a dreamy progressive interpretation of 'Life Is A Carnival'. Anchored by a warm, full bodied groove it's the ethereal qualities and tranquil electronics which really suck you in. Undeniably hypnotic, it leads to a meditative break, before melting down into ghostly atmospherics as the meaty groove returns. A fabulous interpretation from Matias which rounds out a must have remix edition from Movement Recordings.