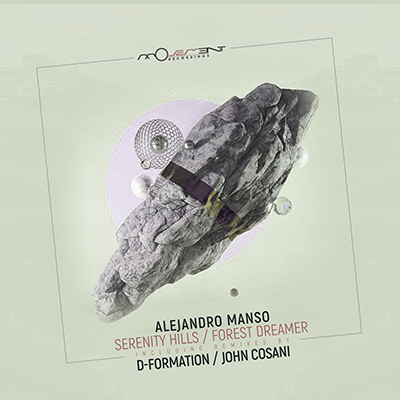 Artist: Alejandro Manso
Title: Serenity Hills / Forest Dreamer
Remixers: D-Formation, John Cosani
Release Date: 14 May
Supported by: Hernan Cattaneo, Blake Jarrel, Richie Ahmed, Luigi Madonna, Petar Dundov, Cid Inc, Be Svendsen, Lonya, Rafael Cerato, ao
The 163rd release on Tash's Movement Recordings welcomes Alejandro Manso back to the label for a brand new EP. The Mexican artist has become a core member of the Greek imprint since making his debut in June of 2016. After closing out 2017 with a critically acclaimed EP for Three Hands Records, Alejandro now makes his much anticipated return to Movement with a two track EP alongside remixes from D-Formation and John Cosani.
Known for his diversity, Alejandro further expands his sonic palette with 'Serenity Hills'. A deep yet driving piece which sucks you into it's smooth rhythmic core. Dark stabs combined with meditative flow create a wondrous contrast as piercing effects and driving drums light up the framework. The free flowing percussive style continues to evolve as the third act builds to a exhilarating peak, before a wonky lead adds the icing on the cake. The companion piece 'Forest Dreamer' is equally compelling with it's dark percussive storyboard. Growling stabs create an ominous presence early as pulsating grooves and trailing effects add to the rolling momentum. As the first act reaches its peak layers of synths coverage for an epic moment before stripping down to a short but hugely effect break. Definitely one for a peak time dance floor.
The lone interpretation of 'Serenity Hills' is provided by D-Formation who is making his first appearance on Movement Recordings. The Spanish artist has been a fixture of the electronic underground for two decades. Recent appearances on Suara, Einmusika and his own Beatfreak Recordings imprint have highlighted his discography as he continues to travel the globe delighting fans with his groovy sound. Always a consumate remixer, D-Formation makes his Movement debut in style bringing 'Serenity Hills' closer to the dance floor. The sleek vibe from the original is well maintained but with a greater percussive presence and tight rhythmic core. The Spaniard's years behind the decks have served him well as a finely tuned break brings waves of tension, ultimately building towards an intense climax and powerful yet classy drop. A massive remix from one of the genres true masters.
The release concludes with John Cosani providing the lone remix of 'Forest Dreamer'. Long regarded as one Argentina's finest progressive house producers, John has found a home on Hernan Cattaneo's Sudbeat Music and Lonya's Asymmetric Recordings. Now returning to Movement for his fourth appearance John closes the release out with a stellar rendition of 'Forest Dreamer'. Carrying the dark undertone from the original John builds on that narrative with a spacious, floor friendly foundation and waves of astral effects. Haunting and twisted in equal measure it's a pure progressive journey that's no doubt going to find a home in the sets of Hernan Cattaneo and Nick Warren. A massive remix which rounds out another must have release on Tash's Movement Recordings. Don't miss it.