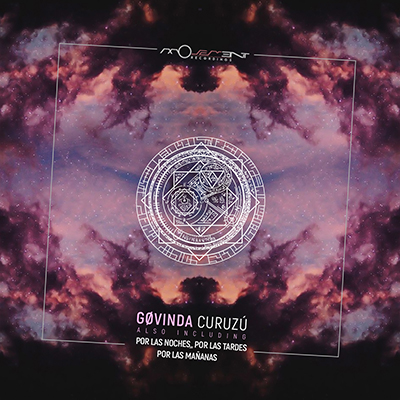 Artist: Govinda
Title: Curuzu EP
Release Date: 30 April 2018
Supported by: Hernan Cattaneo, Paco Osuna, Betoko, Solarstone, Cid Inc, Luigi Madonna, Jamie Stevens, D-FORMATION, Aly & Fila, Jonas Saalbach, ZIGER, ILona Maras, Marc DePulse, Chris Fortier, Interaxxis, Simos Tagias, Framewerk, Praveen Achary, Boss Axis, Be Svendsen, ao
The latest release on Tash's Movement Recordings welcomes Govinda back to the label for his debut EP. Hailing from Argentina, Pablo Francisco Retamero aka Govinda has been pushing his unique style of House and Techno for over a decade. First as part of the Le Microkosmos duo which toured the globe playing at Creamfields with the likes of Boys Noize, Faithless, Simian Mobile Disco and Crystal Castles, to present day as he operates solo as Govinda. With a contribution to Movement's 'Technical Progress, Vol 7' collection in 2017, Govinda now steps up for his much anticipated debut EP entitled 'Curuzú'.
Spread across three tracks the EP begins with the electric 'Por Las Noches'. Blurring genres is nothing new for Govindas who effortlessly melds progressive and techno elements across the seven minute journey. On a backbone of rugged bass stabs and fiery percussion comes emotive synth swells and hypnotic arps. Dynamic drums fills and timely modulation lead to a dramatic break, where an indistinct vocal loop rises to an exhilarating apex before one final rush precedes an epic finale.
The second selection 'Por Las Tardes' showcases a deeper side of Govinda's studio repertoire. Dulcet tones and meandering melancholica sit comfortably over it's precise yet delicate framework. A plucky lead theme adds perfectly to a strong rhythmic core as waves of drums add ultrasonic moments. A lovely complement to 'Por Las Noches'.
The release concludes with 'Por Las Mañanas' which sits as the most musical and reflective of the three. It's sparse framework is filled in with poignant pianos and ethereal vocal elements, the latter of which makes for a gorgeous break, perfectly setting up a soulful, heartfelt finale. A stunning collection of music from Govinda which makes for a highly memorable debut EP on Movement Recordings.