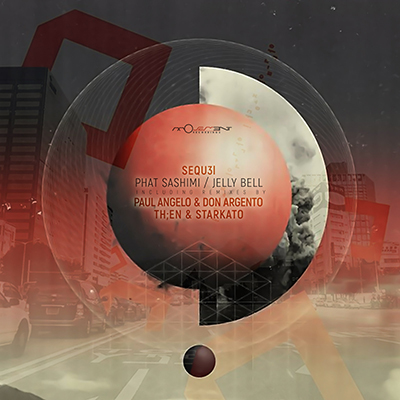 Artist: SEQU3l
Title:  Phat Sashimi / Jelly Bell
Remixers: TH;EN & Starkato, Paul Angelo & Don Argento
Release Date: 28 May
Supported by: Hernan Cattaneo, John Digweed, Richie Hawtin, Dubfire, Paco Osuna, Luigi Madonna, Petar Dundov, Cid Inc, Marc DePulse, BOg, Kollektiv Turmstrasse, Marc Marzenit, Ziger, Matan Caspi, D-Formation, Darin Epsilon, Aly & Fila, Blake Jarrell, Simos Tagias, Interaxxis, Djuma Soundsystem, Tripswitch, Ron Flatter, Paul Hazendonk, Sahar Z, Ilona Maras, Paul Anthonee, ao
The 164th release on Movement Recordings welcomes SEQU3l back to the label for a brand new EP. Operating out of Pune, Nakul Ambilkar aka SEQU3l has become one of the brightest lights in India's electronic underground. While finding a comfortable home on Movement Recordings he has also showcased his music on Beat Boutique, ICONYC and Juicebox Music. 'Phat Sashimi / Jelly Bell' now finds SEQU3l returning to the Greek imprint alongside remixes from TH;EN & Starkato and Paul Angelo & Don Argento.
SEQU3l's ability to craft energetic, melodic sound stories is second to none. How he incorporates emotion in an elegant yet impactful way is perhaps what makes him such a unique artist. The lead track 'Phat Sashimi' is a fine example of that with it's rolling groove and vibrant themes. Pulsating and laced with crunchy effects, the first act develops in waves before a one minute interlude pushes the dramatic storyboard into a heady, percussive finale. The companion piece 'Jelly Bell' continues the darker narrative with a wealth of powerful peak time moments. Immaculately contoured bass tones sit at the foundation while cascading chord stabs, detailed percussion and wispy atmospherics fill in the framework. The break while spacious and airy presents a symphonic lead, uniquely mystical it serves as a catalyst, igniting a fiery third act finale.
The lone interpretation of 'Phat Sashimi' is provided by TH;EN & Starkato who return to the label for their second appearance. The trio delivered their 'Rina' EP for the Greek imprint in January of this year and also own releases on ICONYC and Sprout. Here they bring their unique crossover style to 'Phat Sashimi' with great success. With a tougher, techno inspired sensibility the trio craft a remix that's going to go down well on a wide variety of darker dance floors. It's tight arp is incredibly hypnotic while a complement of fierce percussion and growling synth work leads to a fantastic finish.
The lone interpretation of 'Jelly Bell' is provided by Paul Angelo & Don Argento who are making their second appearance on the label. The Cyprus based duo first appeared on the Greek imprint in July of last year with a contribution to the label's 'Technical Progress, Vol. 7' collection. Now following releases on Soundteller Records and Suffused Music, Paul and Don return to Movement, closing the release out with a superb rendition of 'Jelly Bell'. The duo take the sleek original and transform it into a chunky, driving beast of a remix. Thick slabs of bass roll forward in muscular fashion as dark stabs and piercing effects fill in the framework. The symphonic theme comes to life during the break before a flurry of effects ignites a killer drop. A massive remix from Paul and Don which rounds out yet another must release from SEQU3l and Movement Recordings.