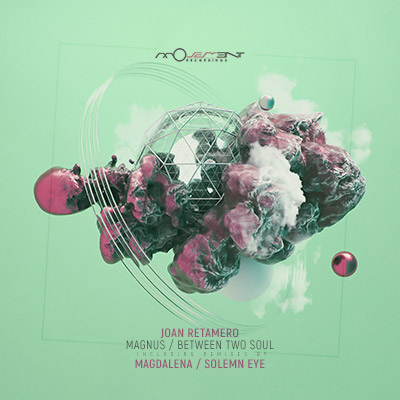 Artist: Joan Retamero
Title: Magnus / Between two souls
Remixers: Magdalena, Solemn Eye
Release Date: 16 April 2018
Supported by: Maceo Plex, Sasha, Hernan Cattaneo, Richie Hawtin, Eelke Kleijn, Anthony Pappa, Aly & Fila, Luigi Madonna, D-Formation, Djuma Soundsystem, Darin Epsilon, Miss Melera, BLANCAh, Lonya, Pole Folder, BOg, Be Svendsen, Ilona Maras, Sabb, Jonas Saalbach, Interaxxis, JOBE, Lonya, Talul, Simos Tagias, GMJ, Black 8, ao
The latest release from Tash's Movement Recordings welcome Joan Retamero to the label for his debut EP. Hailing from Rosario, Argentina, Joan made his production debut in November of 2013 with a contribution to Hernan Cattaneo's Sudbeats 3 compilation. A string of successful releases on Clubsonica Records and Soundteller soon followed, putting Joan at the centre of all things groovy and progressive. Now making his Movement Recordings debut, Joan presents his latest EP entitled 'Magnus' alongside remixes from Magdalena and Solemn Eye.
Beginning with the title track 'Magnus', it's evident Joan's contemporary progressive style has reached a new level. A grinding underbelly provides waves of energy while clustered claps and fresh electronics adorn the framework. A tasteful vocal narrative elevates the mood once more as the track melts down into a cavernous break. Dramatic yet poignant it's an esoteric shift in mood, perfectly setting up a classy drop. The companion piece 'Between Two Souls' strips the proceedings down a touch for a more techno inspired sensibility. Electric designs and shifty tones make for a moody journey before a twisted break ups tension for a rousing finale.
The lone interpretation of 'Magnus' is provided by Magdalena who is making her Movement Recordings debut. Well known for being part of the Diynamic family for years, the German artist made her long awaited production debut in style, contributing 'Should I Stay' to the '10 Years Diynamic' collection which was released in September of 2016. She has since gone on to remix Moby and appear on Mobilee and Stil Vor Talent. Now making her much anticipated Movement Recordings debut Magdalena takes 'Magnus' into deeper and equally exciting territory. On a backbone of warm beats and evolving tones comes a beautifully reprocessed rendition of the vocal. Sparse yet emotive, it's mysterious nature leads to a dramatic break, gently teasing the senses before a creeping wall of white noise ignites the groove for a magic dance floor moment.
The lone interpretation of 'Between Two Souls' is provided by Solemn Eye who is also making his label debut. The Belgian artist is best known for his releases on 'Ethereal Techno' label Steyoyoke and Pole Folder's Reworck imprint. His Movement debut does not disappoint as he puts a softer yet equally powerful touch on 'Between Two Souls'. It's driving rhythmic core quickly becomes infectious as icy pads and astral designs fill in the percussive gaps. Concise and perfectly timed, the main break drifts further into cosmic territory, meditative at moments, before a smooth energy bridge transitions the piece into a spaced out finale. A lovely remix from Solemn Eye, rounding out what is a great Movement Recordings debut for all three artists on the release.