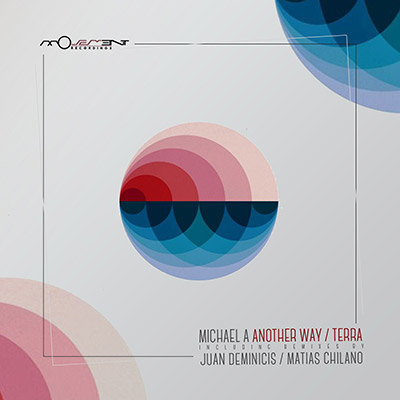 Artist: Michael A
Title: Another Way / Terra
Remixer: Juan Deminicis, Matias Chilano
Release Date: 10 July 2017
Supported by: Hernan Cattaneo, Nick Warren, Dubfire, Ramon Tapia, Marco Carola, Paco Osuna, D-Nox, Cid Inc, Markus Schulz, Eelke Kleijn, Denis A, Marc DePulse, Jonas Saalbach, BOg, Marc Poppcke, Nick Muir, MUUI, Soul Button, Javier Orduña, Amber Long, Danny Tenaglia DJ, Olivier Weiter, Lonya, Jamie Stevens, Christoph Sahar Z, ORSEN, Danito & Athina, Danny Lloyd, Dale Middleton, Stereo Underground Music, Simos Tagias, Li-Polymer, Rich Curtis, ZIGER, ao..
The 147th release on Tash's Movement Recordings welcomes Michael A back to the label for a brand new EP. The Belarus based artist is currently enjoying the best year of his career with releases on Hernan Cattaneo's Sudbeat Music, Proton Music, Sound Avenue and his own Genesis Music imprint. Now making a welcome return to Movement Recordings Michael presents his latest two track offering entitled 'Another Way' alongside remixes from Juan Deminicis and Matias Chilano.  
With progressive music currently thriving Michael's deep and groovy sound is one of the genre's freshest at the moment. The perpetually in demand remixer has crafted two more exceptional productions both with a great nose for the dance floor. Beginning with the title cut 'Another Way' the Belarus based artist creates a storyboard of trippy effects and ethereal motifs, all anchored by a bed of chunky bass stabs and choppy percussion. Dark, brooding and intensely moody it might be Michael's most subversive creation to date. The companion piece 'Terra' comes in deeper, airy and with a sense of reflection and melancholy. It's spacious framework allows for Michael's intricate details to shine, from finely tuned percussion to quirky hooks and delicate overlays, it's an enlightening and thought provoking journey from start to finish. 
The lone interpretation of 'Another Way' is provided by Juan Deminicis who is making his first appearance on the label. As one of Argentina's foremost electronic music talents Juan's productions have been featured on both Sudbeat Music and Lost & Found Records. His deep and distinctive sound continues to be a favourite amongst the top DJs with Hernan Cattaneo and Guy J being two of his long time supporters. His Movement debut has been much anticipated and he's delivered a deep and contemporary interpretation of 'Another Way.' Juan's knack for crafting charming atmospheres has never been more evident as a backdrop of velvety textures perfectly encases the tight framework and free flowing designs. Dreamy and groovy in equal measure it's a piece built on restraint and refinement , deeply engaging and perfect for a late night dance floor. 
The release concludes by welcoming Matias Chilano to the label for his debut appearance. Sleek, refined productions along with continued support from Hernan Cattaneo has made the Argentinean artist a long time favourite amongst progressive house fans.  2017 has been met with a sparser release schedule and his 'Terra' interpretation is much welcome as a result. A tougher, yet monumentally deep groove creates a rippling foundation while playful themes and spacey effects carry nicely into the main break. The emergence of a complementary top line along with a smooth modular build make for a magical centrepiece; light, refreshing and with an air hope, ultimately setting up a smooth, radiant finale. A magical remix from Matias and a long overdue debut on Movement Recordings. A superb outing once again from one of Greece's finest imprints. Don't miss it..

Mastering by Movement Mastering
Release PR by Mitch Alexander
Artwork by MJD Creative
Distribution by Proton