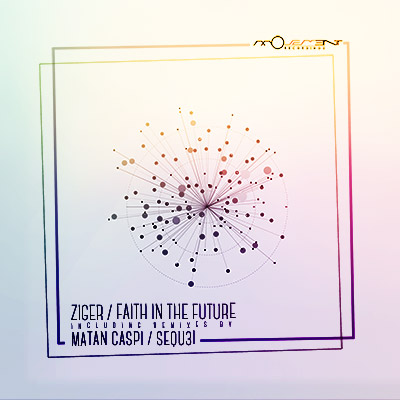 Artist: Ziger
Title: Faith in the future
Remixer: Matan Caspi, SEQU3l
Release Date: 26 June 2017
Supported by: Hernan Cattaneo, Nick Warren, Guy Mantzur, Edu Imbernon, Eelke Kleijn, Tripswitch, John 00 Fleming, D-Nox, Habischman, Olivier Weiter, Cid Inc, Soul Button, Jonas Saalbach, JOBE, Sezer Uysal, Paul Thomas, Marc Poppcke, Dale Middleton, Lonya, Rich Curtis Dj, Lexicon Avenue, Mariano Mellino, Nick Varon, Simos Tagias, Li-Polymer, Tim Penner, Subandrio, Magitman, Nishan Lee, ao
 The 146th release on Tash's Movement Recordings welcomes Ziger back to the label for a brand new single. The Greek artist last appeared on the Greek imprint in May of 2016 with a remix of Michael A's '17 Pounds'. Now fresh off an EP for Hernan Cattaneo's Sudbeat Music Ziger makes his much anticipated return to Movement with 'Faith in the Future' alongside remixes from SEQU3l and Matan Caspi.
Much loved for his pure progressive house sound Ziger sticks to roots on 'Faith in the Future' and delivers one of the genres true gems. Anchored by pulsating tones and meaty kicks the piece moves through a variety of pensive motifs over its seven minute journey. Energetic yet meditative; solemn synths, luminous textures and subtle hooks wrap around the framework, ultimately leading to a charming break. Dulcet and dreamy, the one minute interlude shifts planes as the beats fade off before a tasteful build takes you back into the cosmos.
The first interpretation of 'Faith in the Future' is provided by SEQU3l who is making his seventh appearance on the label. Hailing from India, Nakul Ambilkar aka SEQU3l made his debut on the Greek imprint in March of 2013 with a remix of a Movement Recordings classic, 'Volt Afterhours' by Tash and Magitman. Nakul has gone on to record three EPs and a remix for the label with the most recent being his 'Extreme Ends' EP, released in October of last year. Additional releases on Praveen Achary's Juicebox Music have solidified SEQU3l's place amongst the progressive house elite and his interpretation of 'Faith in the Future' looks to be his most anticipated project to date. Techno inspired and with some added bite, SEQU3l's take comes in darker, bigger and with a great nose for the dance floor. Growling stabs, staggered bass tones and devilish claps power a strong first act, before a distinctive lead theme dominates the main break, foreshadowing a strong third act which lifts the vibe higher.
The second and final interpretation of 'Faith in the Future' is provided by Matan Caspi who is making his label debut. The Israeli producer has been a staple of the electronic underground dating back 10 years with releases on Global Underground, Deeperfect, and Spinnin highlighting his discography. More recently Matan has been a regular in Beatport's progressive house charts with releases on his own Outta Limits imprint hitting the Top 20. Now making his Movement Recordings debut he puts his own unique twist on 'Faith in the Future', bringing a warm, fluid approach that hits on just the right emotional level. The rhythmic qualities and airy motifs from the original shine through as cascading melodies bring several poignant moments along the way. Timely vocals add nicely to the narrative as the break unfolds before a powerful build and wave of sonic dust sparks a massive finale. Another finely detailed interpretation from Matan which rounds out a gorgeous release on Movement Recordings. Just in time for the summer season. Don't miss it.

Mastered by Movement Mastering
Artwork by MJD Creative
Text by Mitch Alexander
Distribution by Proton