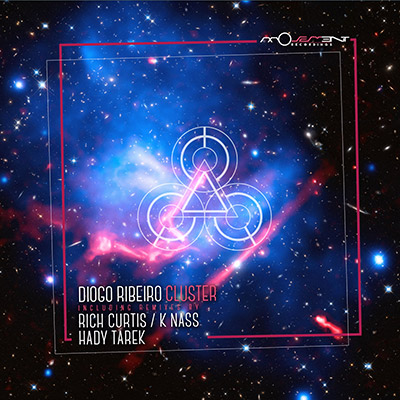 Artist: Diogo Ribeiro
Title: Cluster EP
Remixer: Rich Curtis, K Nass, Hady Tarek
Release Date: 24 July 2017
Supported by: Paco Osuna, Joseph Capriati, Michel De Hey, Olderic, Cid Inc, Marc Poppcke, Alexi Delano, BOg, Lonya, Boss Axis, Soulbutton, Magitman, Anthony Pappa, Kintar, Dale Middleton, Praveen Achary, Andrea Cassino, Simos Tagias, Sonic Union, Li-Polymer, Subandrio,  Hot TuneiK, ao
The 148th release on Tash's Movement Recordings welcomes Diogo Ribeiro back to the label for a brand new EP. The Portuguese artist has become a primary contributor to the Greek imprint with this being his sixth appearance. Now embarking on his biggest project to date Diogo presents his 'Cluster' EP alongside remixes from Rich Curtis, K Nass and Hady Tarek.
This expansive collection is a showcase of what a versatile and skilled producer Diogo is. Beginning with the title track 'Cluster' the Portuguese artist explores the boundaries of progressive techno with a wealth of trippy motifs and club friendly rhythms. A running vocal narrative builds tension before opening up as waves of percussion fill out the framework. Wonky themes dominate the second act with clusters of effects further tantalizing the senses. A great dance floor sensibility which no doubt comes from Diogo's extensive time behind the decks. 'It's Possible' meanwhile comes with the same great rhythmic design but with a more straight forward yet timeless feel. Filled with dulcet moments the piece flows with rolling grooves and distinctive vocal stabs before trails of spacey effects light up the atmosphere. The third and final original 'Droid' is aptly titled with its tech / sci-fi inspired design. Backed by a deliberate framework, phasing rhythms and mystical vocals the first act immediately draws you in before picking up steam into a heady middle section. It's burly groove is nicely geared for peak time and has already been making it's mark in Diogo's global sets.
Leaving no stone unturned Rich Curtis, K Nass and Hady Tarek provide an excellent set of remixes to complete this stunning collection. First up is Aussie artist and Hernan Cattaneo favourite Rich Curtis who puts his own unique twist on the title track 'Cluster'. Coming in beefier and a touch more progressive minded Rich uses the vocal elements to great effect while adding his own luminous melodies. Bright and vibrant, they carry the mix with a euphoric yet classy flair before a massive build strips the framework down to it's core for a magic moment.
The lone interpretation of 'It's Possible' is provided by K Nass who is making his second appearance on the label. The Egyptian artist and Northern Lights label boss brings his brand of trippy progressive house to the track with great results. Re-processed vocals, spiralling motifs and layers of intricate percussion make for a superb first act before a spaced out break takes you further into the cosmos. The near two minute interlude is quite compelling with unique sonic traits and a bevy of intriguing designs ultimately setting up a heady conclusion.
The lone interpretation of 'Droid' is provided by Hady Tarek who is making his first appearance on the label. The Egyptian artist is perhaps best known for this releases on A Must Have, Baroque Records and Bonzai Records where this old school progressive sound has flourished. Now making his much anticipated Movement Recordings debut Hady provides an excellent rendition of 'Droid' to close the release out. With a more melodic direction it sits as a lovely complement to the techno inspired original. Summery motifs, warm tones and a playful framework make for ideal terrace or seaside material while an even groovier third act closes the release out on a high note. A wonderful EP from Diogo and a superb collection of remixes for all occasions. Highly Recommended.

Mastering by Movement Mastering
Release PR by Mitch Alexander
Promo Campaign by SMP3
Artwork by MJD Creative
Media by Split Atoms