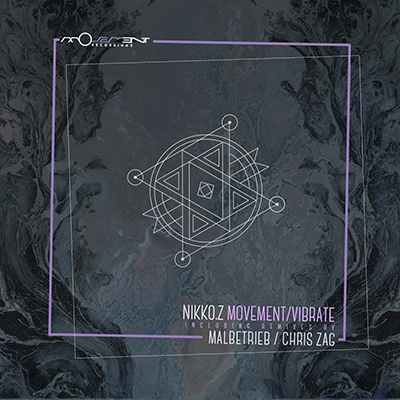 Artist: Nikko.Z
Title: Movement / Vibrate
Remixer: Malbetrieb, Chris Zag
Release Date: 12 June 2017
Supported by: Hernan Cattaneo, Paco Osuna, Jimmy Van M, Cid Inc, Darin Epsilon, BOg, Tone Depth, Marc Poppcke, ao..
The latest release on Tash's Movement Recordings welcomes Nikko.Z back to the label for a brand new EP. The Greek artist last appeared on the Greek imprint in October of 2016 with a contribution to the label's 'ADE Sampler'. In addition to releasing on Hernan Cattaneo's Sudbeat Music Nikko also heads up the excellent Dopamine Music imprint. He continues to be one of his country's top electronic music talents and now he returns to one of his original homes with a brand new EP appropriately entitled 'Movement'.
Nikko has blurred the lines between progressive house, techno and deep house for many years and this unique fusion of styles has found favour with both Nick Warren and Hernan Cattaneo. 'Movement' comes in quite techno inspired with a dark, deliberate and driving groove. Hypnotic motifs, firing percussion and distinctive acid hooks converge for a deadly rhythmic core, leading nicely into a stripped down second act. Void of any major break, the tension runs on a cascading wave with granular swells, pulsating synths and timely modulation delivering several magic moments.
The first two interpretations of 'Movement' are provided by Malbetrieb who is making his debut appearance on the label. The Dutch artist and Lines label boss is much loved for his pristine, organic and deeply engaging productions. Releases on Selador and Chapter 24 have been discography highlights thus far with the remainder of 2017 holding much promise. A volume controlled schedule has made him one of the underground's most in demand talents and with just a handful of new productions this year his Movement Recordings debut has been much anticipated. His re-imagining of 'Movement' comes across two interpretations with the first stripping back the framework while building a subtle but deadly atmospheric narrative. The second and aptly coined 'Acid Cut' builds a strong 303 storyboard. Masterfully crafted, the first act flows with a prudent tension, through waves of nasally hooks and shifting resonance, ultimately leading to a short but intense break where the acid motifs reach their full cognizance.
The second and final interpretation of 'Movement' is provided by Chris Zag who is making his first appearance on Dopamine Music. The Greek artist has worked as label A&R for Nikko.Z's Dopamine Music imprint since its 2012 inception. A remix of 'Remain Strong' by Simos Tagias in February of 2016 marked Chris' first official release and it did not go unnoticed, receiving live play from Armin Van Buuren at A State of Trance 750 in Utrecht, Netherlands. Now making his Movement Recordings debut in style he takes 'Movement' into tech house territory with great results. Backed by a chunkier, choppy framework and bulbous groove it's rhythmic core is remarkably strong. Following an intense but meditative first act the acid themes lead nicely into the main break. As a wall of sonic decay dissipates muted kicks build tension before squirrelly synths and bubbly acid lines precede a classy drop. Wonderful interpretation from Chris.
The release concludes with a second original from Nikko entitled 'Vibrate' which sits as a lovely complement to 'Movement'. Although deeper and more atmospheric than the lead it's techno sensibilities remain undeniable. From indistinct vocals, granular designs and spacey sonics there are wealth of incredible effects to get lost in, but a strong percussive cadence and rolling core keep the focus firmly on the dance floor. Perhaps Nikko's most heady creation to date and a perfect way to round out the release. A brilliant return for one of Greece's finest and appropriately courtesy of Tash's Movement Recordings. Highly Recommended.

Mastering by Movement Mastering
Release PR by Mitch Alexander
Artwork by MJD Creative
Distribution by Proton