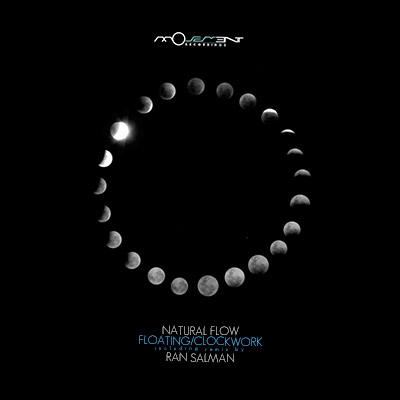 Artist: Natural Flow
Title: Clockwork / Floating
Remixer: Ran Salman
Release Date: 29 May2017
Supported by: Hernan Cattaneo, Nick Warren, Paco Osuna, Noir, Sasha Carassi, Martin Roth, BOg, Siopis, Elias Tzikas, ao
The 144th release on Tash's Movement Recordings welcomes Natural Flow back to the label for a brand new EP. Hailing from Mexico and Argentina respectively, Hugo Ibarra and Antu Coimbra make up the Natural Flow production team. The duo's deep, mystical take on techno has won over the likes of Tale Of Us, Mind Against, Hunter Game, Fur Coat, Shall Ocin, Agents Of Time, Gardens Of God and Locked Groove. Following a contribution to Movement's 'Modern Filosophy' collection in September of 2015 Natural Flow went on to release their first EP in December of the same year. Now following a well received contribution to the Akbal Records 10 Year anniversary release (again played by Tale Of Us) the duo present their brand new EP entitled 'Floating/Clockwork' alongside a remix from Ran Salman.
Natural Flow has always challenged people's musical perceptions. Through distinctive design and spacey soundscapes the duo have carved out their own unique place in the underground. 'Floating' showcases this wonderfully with mysterious and deeply compelling architecture. Buzzing sonics built around a smooth, meditative groove and poignant pads make for a gorgeous seven minute journey. The companion piece 'Clockwork' comes in equally mesmerizing with psychedelic structures and alien like design immediately grabbing your attention. Solemn yet hopeful, it's emotive range is vast, accentuated perfectly with devilish hooks and astral trails.
The lone interpretation of 'Floating' is provided by Ran Salman who is making his first appearance on the label. With releases on esteemed imprints such as Einmusika, Steyoyke and Nick Warren's The Soundgarden, the Israeli artist has become one of his country's most exciting electronic music talents. Now making his much anticipated debut on Movement Recordings Ran takes 'Floating' into tougher, techno inspired territory. Punchy kicks and waves of growling bass anchor the piece, while dramatic organs and a shifting modular theme build expertly into a symphonic sunrise; spiritually fulfilling and perfectly dialled for the dance floor. An exceptional debut for Ran on Movement Recordings and perhaps one of the label's most inspired releases all year. Don't miss it.