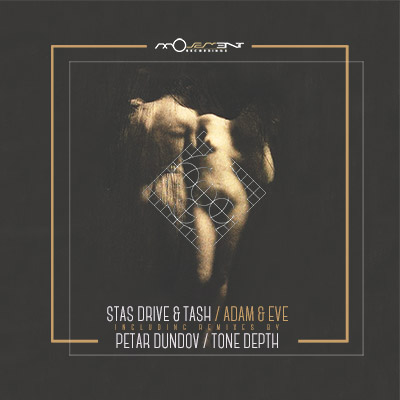 Artist: Stas Drive & Tash
Title: Adam & Eve
Remixers: Petar Dundov, Tone Depth
Release Date: 15 May2017
Supported by: Dubfire, Maceo Plex, Nicole Moudaber, Sasha Carassi, Paco Osuna, Noir, Edu Imbernon, Nick Warren, Nick Muir, Eelke Kleijn, Felix Da Housecat, Kölsch, Betoko, Human Machine, BOg, Marc DePulse, Lonya, Khen, Cid Inc, Darin Epsilon. Marc Poppcke, Jamie Stevens, Microtrauma, Habischman, David Scuba, JOBE, Soul Button, ao
The latest release on Movement Recordings finds label boss Tash teaming up with Stas Drive for their first collaborative EP. Hailing from Greece and the Ukraine respectively, both Tash and Stas Drive have enjoyed continued success in their solo careers. When not organizing Greece's hottest events, Movement label boss Tash is heads down in the studio with his work earning regular support from Hernan Cattaneo and Nick Warren. Meanwhile, Stas Drive's organic blend of deep house, techno and nu-progressive styles has found a home on Chapter 24, Bad Pony and Motek Music. The duo's debut EP 'Adam & Eve' has been much anticipated and with interpretations from Tone Depth and Petar Dundov it looks set to be one of this year's best releases.
Beginning with 'Adam' Stas Drive and Tash explore deep house sensibilities wrapped up in a progressive state of mind. Anchored by an elliptical groove the foundation flows through warm, melodious chord changes while modular shifts delight the senses every step of the way. Shifty percussion, spaced out electronics and a strong rhythmic core meld together for the ultimate cosmic collage. Two interludes change the pace nicely with the second bringing the tracks defining moment through airy chord stabs and spiralling motifs, propelling the piece to an exhilarating conclusion. 'Eve' comes in brighter, more melodic and equally engaging. A similar design profile sets another warm, fluid groove in motion while sparkling electronics bounce throughout the framework. Detailed drum work proves electric while vocal samples and kaleidoscopic designs further the narrative. A timely break adds drama through sonic decay before one final rush of beats, drums and white noise paves the way for a melodic finale. Collaborations are always an intriguing proposition and the studio synergy between Stas Drive and Tash looks to be strong with two cuts that you're going to be hearing a lot in the coming months.
The lone interpretation of 'Adam' is provided by Tone Depth who is making his first appearance on Movement Recordings. Perhaps best known for his 'Rumblefish' production released courtesy of John Digweed's Bedrock Records, Tone Depth has returned to the underground in major way following a long hiatus. EP's for Hernan Cattaneo's Sudbeat Music and his own Bad Pony imprint have been sensational and he's delivered an excellent rendition of 'Adam' here. With a tougher, more techno inspired approach the Canadian artist provides a perfect complement to the more progressive minded original. It's stripped framework sets a spacious backdrop with the main motifs getting represented well throughout the eight minute journey. A revamped effects narrative keeps your attention locked while a sizzling build out of the main break seals it's dance floor appeal. A wonderful remix from Tone Depth.


The lone interpretation of 'Eve' is provided by Petar Dundov who is also making his Movement Recordings debut. The Croatian artist is one of the most storied techno producers of the last 20 years, Petar's music stretches sonic boundaries like almost no one else. His inimitable style is marked with timeless qualities and has long been a favourite of legendary DJs John Digweed, Laurent Garnier and Sven Vath. 2016 was marked with several notable achievements including another stellar collaborative EP with Gregor Tresher (courtesy Cocoon Records) and his 'At The Turn Of Equilibrium' LP for Musicman being the most notable. Here he brings more magic, closing the release out with a sensational remix of 'Eve'. In his own distinctive style Petar reworks the melodic elements into something devilishly hypnotic and deeply meditative. Rolling grooves and percussive splashes build waves of momentum before a timely break provides a cosmic bridge into an acid fuelled final act. A brilliant interpretation from Petar which will go down as one of this most sought after remixes this year. A major statement from Movement Recordings who deliver big on this release. Highly Recommended.
Mastering by Rogier Schouten / Movement Mastering
Online Distribution by Proton LLC
Artwork by MJD Creative