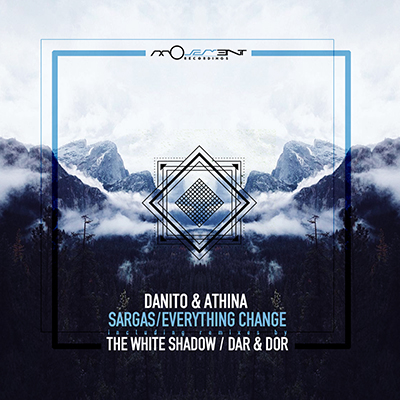 Artist: Danito & Athina
Title: Sargas / Everything Change
Remixers: THe WHite SHadow / Dar & Dor
Release Date: 1 May2017
Supported by: Paco Osuna, Dubfire, Kölsch, B.Traits, D-Nox, Eelke Kleijn, Betoko, Edu Imbernon, Jamie Stevens, Tripswitch, Nick Muir, MATAN CASPI, Stas Drive, Chicola, Li-Polymer, Roger Martinez, Magitman, Habischman, Simos Tagias, ZIGER, KINTAR, Soulwerk, Marc Poppcke, Miss Melera, Max Graham, Lonya, Cid Inc, Danny Tenaglia DJ, Balcazar & Sordo, FreakMe, ao..!!
The latest release on Tash's Movement Recordings welcomes Danito & Athina back to the label for their debut EP. The German duo made their first appearance on the Greek imprint in January of this year with a remix of 'Syracusse' by Mariano Mellino and John Cosani. Now making their much anticipated return Danito & Athina present their 'Sargas / Everything Change' EP alongside remixes from DaR & DoR and THe WHite SHadow.
It's been a fruitful year for Danny Wendt and Tina Charalampidis aka Danito & Athina. Having their music showcased on Crossfrontier Audio, Light My Fire and Stil Vor Talent has taken them to new heights. Their distinctive take on the nu-progressive sound has become a staple in the sets of A-List DJs and the remainder of 2017 holds even more promise. Presented over two tracks their debut EP for Movement looks to be their most sought after work to date. Beginning with 'Sargas' the duo explore chunky grooves, rolling rhythms and a myriad of vocal motifs. A mallet-like theme brings mystical charm to the centrepiece as bass swells and sonic decay lift the tension before a tasteful drop. 'Everything Change' meanwhile comes in lighter, funkier and equally gorgeous. Warm waves of bass make up a smooth, melodious foundation while a strong rhythmic core and ethereal vocals encase the framework. Mysterious and reflective, the main break adds a cross cultural flair before a full vocal drops in. Full of soul and emotion it's a captivating storyboard with just the right amount of grandiose flair. Two stunning creations from Danito & Athina which you're going to be hearing a lot in the coming months.
The lone interpretation of 'Sargas' is provided by DaR & DoR who are making their seventh appearance on the label. Israeli producers Chico Shoshan & Liran Partush make up the DaR and DoR production team. Three EP projects along with a remix and two sampler appearances have made them a core part of the Movement Recordings roster in recent years. Their dark take on progressive house has found its way into the sets of Hernan Cattaneo and their remix here looks set for a similar fate. Muscular beats, drifting vocals and finely tailored percussion suck you in immediately. It's brooding narrative paves the way for a spine-tingling break as the vocal elements shine amidst a wall of elastic bass and haunting atmospheres. One for the darker dance floors and perhaps DaR & DoR's best remix to date.
The release concludes with THe WHite SHadow making his label debut and putting his own unique twist on 'Everything Change'. Many electronic music fans discovered the French artist with his 'The Sky' EP on Tenampa Recordings in 2014 and he has since gone on to release with Crossfrontier Audio, Stil Vor Talent, Chapter 24, Suara and his recently launched Nagual Research imprint. Known for his distinctive sound he closes the release out very strong with an excellent rendition of 'Everything Change'. A radically revamped groove brings a buoyant energy to the piece as vocal snips and devilish arps tease the senses. Emotive chord changes play nicely through the first act before a roboticized take on the vocal shifts the mood during the break. A stunning creation from THe White SHadow full of boundless creativity and a real nose for the dance floor. It rounds out another excellent release from Tash's Movement Recordings in fine style. Highly Recommended.

Mastering by Rogier Schouten / Movement Mastering
Online Distribution by Proton LLC
Artwork by MJD Creative