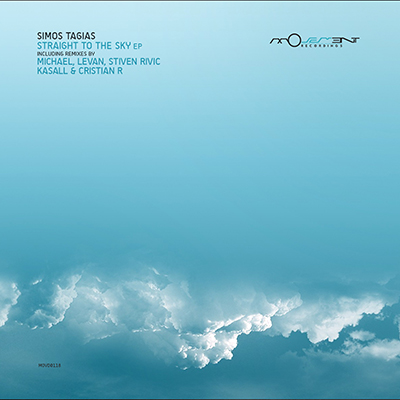 Artist: Simos Tagias
Title: Straight To The Sky / Wasted Dreams
Remixers: Michael & Levan and Stiven Rivic / Kasall & Cristian R
Release Date: 21/12/2015 
The 118th release on Tash's Movement Recordings finds Simos Tagias returning for a brand new EP. Following two compilation appearances for the Greek imprint Simos remixed Marcelo Vasami 'Animals' in August which turned out to be one of Movement's best selling tracks of the year, as it currently sits at the #2 spot in the labels Top 10. Now Simos returns for his long awaited debut EP entitled 'Straight To The Sky' which includes remixes from Michael & Levan and Stiven Rivic and Kasall & Cristian R.
The release gets under way with 'Straight To The Sky' which finds Simos crafting another one of his enchanting progressive creations. Following a DJ friendly intro of fat beats and wispy atmospheres the track begins to take shape with a flurry of rhythmic elements and warm subby basslines. Sweeping vocal snips and a catchy lead build some wonderful momentum before layers of drums add a tribalistic vibe. As hints of a more distinct melodic theme gets teased the main break commences and as the gorgeous motif is fully unveiled the beats return for a powerful moment. It makes for a dreamy and highly emotional conclusion that ranks right up there Simos' best work to date.
The lone interpretation of 'Straight To The Sky' is provided by Michael & Levan and Stiven Rivic who are making their ninth appearance on Movement Recordings. The Mistique Music label bosses have a had a hugely productive year. After an intensive and highly creative winter Michael & Levan and Stiven Rivic returned with new music for Sudbeat Music and Manual Music, with forthcoming material signed to Replug and Tulipa not far off. Michael, Levan and Stiven remain one of most integral artists on the Movement roster and they've provided more sonic excellence with their 'Straight To The Sky' interpretation. Opting for a tougher, groovier and more rugged approach the trio have gone for the jugular here. The expertly contoured groove is a thing of beauty and a bevy of psychedelic designs delight the senses along the way. The lead hook makes a brief appearance, initiating a short break before the menacing groove is unleashed and a collage of tripped out audio makes for a killer conclusion. Superb remix from Michael, Levan and Stiven.
The second original 'Wasted Dreams' presents a techier side of Simos' studio repertoire. Beginning with a tough groove, hypnotic swells and waves of percussion it doesn't take long to realize this is the ideal complement to 'Straight To The Sky'. Long gaseous sweeps, tripped out vocal snips and eerie tones make for an eventful first act, before further rhythmic shifts lock the groove down a few notches further. A perfect example of how good new school progressive house can be and with little or no break it's a continuous journey which builds endlessly and tells a compelling story every step of the way. Amazing work from Simos. The lone interpretation of 'Wasted Dreams' is provided by Kasall & Cristian R who are returning to Movement Recordings for their third appearance. The Argentinean duo has been one of the most hotly tipped production teams this year with a long line of impressive releases, headed by an EP for Hernan Cattaneo's Sudbeat Music. Their 'Flying' EP was met with great praise in May of this year and they've followed that up in style with an excellent interpretation of 'Wasted Dreams'. Noted for their massive and perfectly contoured grooves the two Argentinian's work more bass line magic here before unleashing an assault of deadly rhythms and hopefully motifs.
It carries the track with ease to the main break which is an emotive centre piece full of blissful textures and spine tingling melodies. Following a subtle build the distinctive groove returns while shuffling drums and swirling sonics take you on a subversive third act ride.
If there were two producers which you'd point to for the new sound of the progressive underground you'd be hard pressed to find a better example than Kasall & Cristian R. Excellent remix and a top notch release from Movement Recordings who close the year out in style. Highly Recommended.