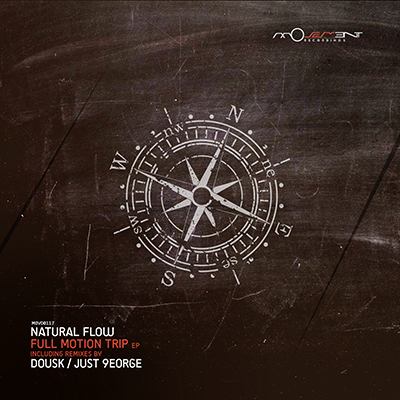 Artist: Natural Flow
Title: Full Motion Trip / Trip To Westeros
Remixers: Dousk, Just 9eorge
Release Date: 7/12/2015
Supported by: Lee Burridge, Nick Warren, Robert Babicz, Chymera, John Johnson, Agents Of Time, Jeremy Olander, Blusoul, Soulbutton, Lemon 8, D-Nox, Melokolektiv, Jimmy van M, Khen , 
The 117th release on Tash's Movement Recordings welcomes Natural Flow back to the label for their debut EP. Hailing from Mexico and Argentina respectively, Hugo Ibarra and Antu Coimbra make up the Natural Flow production duo. It's a new venture for the veteran producers and their discography already boasts original material for Sudbeat Music, Plattenbank and a full length album for the Mexican label We Are Here Records. 'Say Our Name' was a highlight of Movement's 'Modern Filosophy' compilation in September of this year and now Natural Flow presents their debut EP for Movement Recordings alongside remixes from Just 9eorge and Dousk. 
Having already earned club support from Tale of Us, Fur Coat, Agents of Time and more, Natural Flow's journey into deep, mystical techno continues with their latest 'Full Motion Trip'. Anchored by a warm, hypno-infused groove and sultry rhythmic structures, it's a piece that builds through a variety of indistinct motifs. Dusty harmonies and subtle vocal gates continue to tantalize the senses as the atmosphere thickens towards the second act. A dramatic break proves to be the ultimate rhythmic shift with the narrative moving to a psychedelic audio collage which carries the piece to a smooth, yet exhilarating conclusion. 
The lone interpretation of 'Full Motion Trip' is provided by Just 9eorge who is making his fourth appearance on Movement Recordings. The Greek producer and one half of the 9West production duo has been exploring different stylistic blueprints under his solo alias and he made his Movement Recordings debut a memorable one when Nick Muir featured 'Barbouni' on John Digweed's much loved Transitions radioshow. More recently Just 9eorge has remixed Omar El Gamal earning rave reviews from various camps across the underground. For his 'Full Motion Trip' interpretation the Greek producer has gone deeper and more musical with exceptional results. Fans of Just 9eorge recall many of his incredible guitar motifs and he's crafted another one here. Following a dubby first act and well constructed break, the strummy hooks come to life with a wistful effervescence. It's leads the piece on and into an enchanting third act which is sure to touch your musical soul.
The EP's second selection 'Trip To Westeros' finds Natural Flow exploring the deeper, darker realms of their studio repertoire. It's punchy groove is adorned with feathered sonics and a fresh tonal theme which pushes the momentum forward. It's ever evolving narrative  builds a delicate tension, before a series of bass tones drop in for what should be a great moment on the clued up dance floors. It's wonky, modular approach expands during the main break,  making for a dramatic return of the beats and further excellence during a strong third act. 
The lone interpretation of 'Trip To Westeros' is provided by Dousk who is making his eighth appearance on Movement Recordings. The storied producer known for his classic releases on Bedrock and Global Underground has continued to evolve and bring his fresh production approach to dance floors around the world. A continually busy gig schedule, highlighted by an Argentina tour along with productions for Classound Recordings, Kunai Records and Perspectives Digital have made for a great 2015. As the year is winding to a close Dousk keeps that momentum high with a superb remix of 'Trip To Westeros'. Backed by beefier beats and a more muscular framework, the Greek producer's remodel strikes an immediate chord. As new found vocal elements ignite the groove, the rearranged lead theme pierces the atmosphere and carries the track into a dramatic break. With tension building, the vocal elements spiral into a sonic vortex as a rush of beats and drums bring the pulsating foundation back for that magic moment; one which closes the release out in style. An exceptional offering from Movement Recordings. Don't miss it!
Distribution by Proton LLC
Artwork by MJD Creative
Press Release by Mitch Alexander
www.movement-recordings.net
www.facebook.com/movementrec
www.soundcloud.com/movement-recordings