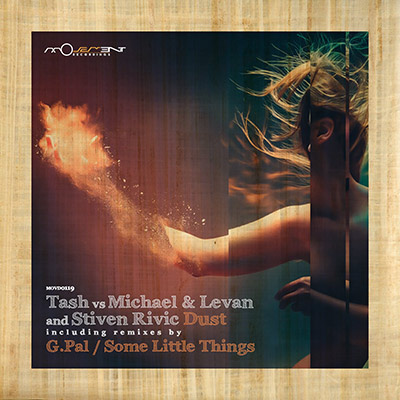 Artist: Tash vs Michael & Levan and Stiven Rivic
Title: Dust
Remixers: G.Pal, Some Little Things
Release Date: 4/1/2016
Supported by: Hernan Cattaneo, Nick Warren, Joris Voorn, Tripswitch, Danny Tenaglia DJ, Soul Button, Andy Moor, Roy RosenfelD, Cid Inc, Chris Fortier, Jamie Stevens, Barry Jamieson, Darin Epsilon, Flash Brothers, Luis Bondio, Framewerk, Mariano Mellino, Blusoul, Marcelo Vasami, Lonya, Chicola, Sonic Union, ao.. !! 
The 119th release on Movement Recordings presents a special collaborative project from Tash and Michael and Levan and Stiven Rivic. The Movement and Mistique Music label bosses have been talking about working together for years and a productive 2015 has now made that vision a reality. Their unique styles complement each other well and have yielded the massive 'Dust' which features remixes from Some Little Things and G.Pal, recently supported by Hernan Cattaneo, Nick Warren, Anthony Pappa, Cid Inc, Danny Tenaglia, Andy Moor, Lonya, Luke Porter, ao..
When you take Tash's keen sense for the dance floor and the gorgeous textures and perfectly sculpted grooves of Michael, Levan and Stiven, you're bound to end up with something special. 'Dust' is exactly that and from the moment the kick drops you can feel a warm, inviting atmosphere building. As trailing effects sweep across the framework a mountainous groove drops in along with a bevy of sonic designs. Smooth chord changes add a warm emotive quality as momentum builds, and the introduction of a hopeful pad initiates the main break. Although brief, the interlude sets high drama with a lone stab piercing the air and ultimately directing the warm groove back for a great finale. A wonderful collaboration from Tash, Michael, Levan and Stiven.
The first interpretation of 'Dust' is provided by Some Little Things who are making their second appearance on Movement Recordings. Hailing from Argentina, Leandro Moyano and Matias Medina make up the Some Little Things duo. They've delighted deep progressive fans all through 2015 with releases on Sudbeat Music and Hope Recordings. Here they bring their unique sound to 'Dust' with an inspired interpretation that complements the original perfectly. Opting for a more energetic, driving approach the Argentinean duo reinvent the dubby qualities from the original wonderfully. Dynamic drum fills and swirling atmospheres make for a massive first act whereby bringing the track to the main break. With the drums in and groove locked, the tracks centrepiece ups the intensity with atmospheric tension rising along with a short build culminating with a rush of beats for a huge finale.
The second and final interpretation of 'Dust' is provided by G.Pal who is making his first appearance on Movement Recordings. The Greek producer has a storied history in electronic music. His now fifteen year career has been highlighted with appearances on Bedrock, Ovum Recordings, YoshiToshi and his own Swift Records imprint. More recently G.Pal contributed to Tronic Music's '2015 Part 1' collection and continues to release on his own imprint. Fans of the producer have certainly been longing for new material, so his remix here is highly anticipated, and one which comes with all the class and style you'd expect from the studio veteran. Anchored by an expertly contoured groove and fresh rhythmic designs the piece has a great dance floor sensibility straight away. Sweeping effects combined with whimsical tones makes for a smooth yet exhilarating first act, ultimately leading to a stripped down section where the lead really shines. Ingenious modulation adds just the right amount of spice as the record peaks and charges forward for a strong conclusion. A wonderful remix from G.Pal who shows that he's still at the top of his game after all these years. It's makes for an exhilarating end to another top shelf release from Movement Recordings. Don't miss it.