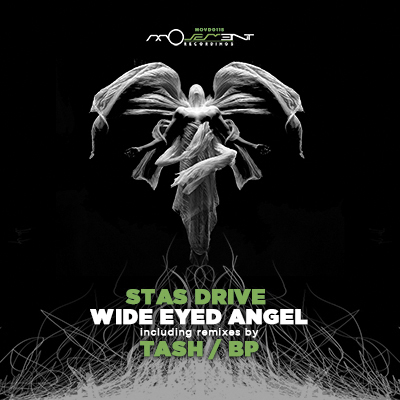 Artist: Stas Drive
Title: Wide Eyed Angel
Remixers: BP, Tash
Release Date: 09/11/2015
Supported by: Danny Tenaglia, Lee Burridge, Guy J, Hernan Cattaneo, Jimmy Van M, Nick Warren, Dino Lenny, Tilt, Marc Poppcke, Roger Martinez, Jamie Stevens, Luis Junior,Denis A, Lemon8, Darin Epsilon, Lonya, Marcelo Vasami, Blusoul, Chicola, Paul Hazendonk, Silinder, DNYO, David Granha, Nikko.Z, Amber Long, dPen, Mononoid, Blue Amazon, Dale Middleton, Andy Newland, Simos Tagias, Andrea Cassino, Soundexile, Han Haak, Praveen Achary, ao .. !!!
The 115th release on Movement Recordings welcomes Stas Drive back to the label for a new single. The Ukrainian producer has been much hyped this year, releases on Manual Music, Spaghetti Monster and Sudbeat have delivered some of his best ever music. Stas Drive's return to Movement Recordings has been much anticipated with two forthcoming singles garnering much talk in the underground. 'Wide-Eyed Angel' is the first and includes two excellent interpretations from BP and Tash.
The Stas Drive sound continues its metamorphosis on 'Wide-Eyed Angel' which finds the Ukrainian crafting a deep, percussive journey into mystical sounds. Anchored by contoured bass stabs the records foundation exudes warmth and groove. As indistinct motifs convene around the framework a smooth hypnotic drawl develops. Wispy textures combined with vocally pads and sparkling accents create a wondrous sonic environment, which the strong groove cuts through perfectly. Shifty drum fills deliver some subtle tension while the atmospheric storyboard continues to build to a masterful conclusion. It's a marvellous journey from Stas Drive which should go down as one of his best of the year by 2015's end.
The first interpretation of 'Wide-Eyed Angel' is provided by BP who is making his first appearance on Movement Recordings. The Belgian artist has a storied career in electronic music dating back to his work under Hatrixx all the way through to his more recent efforts for Lost and Found and Sudbeat. There are few better at crafting timeless electronic grooves than BP and he's delivered an exceptional remix of 'Wide-Eyed Angel' here. Aptly coined 'Lazy Summer' BP's interpretation goes deep with incredible warmth and electronic soul. Sparkling designs adorn the framework while the rolling groove carves out a killer foundation. As the main break commences a distinctive motif takes shape and evolves into a sun drenched theme worthy of more than a few goosebump moments. A delicate build adds the perfect spice before the warm, fluid groove returns for an enchanting finale. Gorgeous stuff from BP which is sure to be one of his most sought after remixes this year.
The second and final interpretation of 'Wide-Eyed Angel' is provided by Tash who is making his 34th appearance on the label. The Greek artist and Movement Recordings label boss has continued his prolific production ways this year. A revitalized spark in the studio has yielded some of Tash's best ever productions as a result, with support from Hernan Cattaneo and releases on Asymmetric Recordings and Just Movement highlighting his discography. For his 'Wide-Eyed Angel' interpretation Tash has delivered what is perhaps the best production of his career. Anchored by a warm, chuggy groove and tribal infused drums it's a story told over eight captivating minutes. Highlighted by haunting vocal sweeps, acidic rhythms and vibrant tonal themes Tash's rework exudes ingenuity at every turn. The main break proves to be the ideal centrepiece with its misty atmosphere and divine melodic progression. Superb remix from Tash and a top shelf offering from Movement Recordings.
Distribution by Proton LLC
Mastering by Stas Drive
Artwork by MJD Creative
Press Release by Mitch Alexander
www.movement-recordings.net
www.facebook.com/movementrec
www.soundcloud.com/movement-recordings