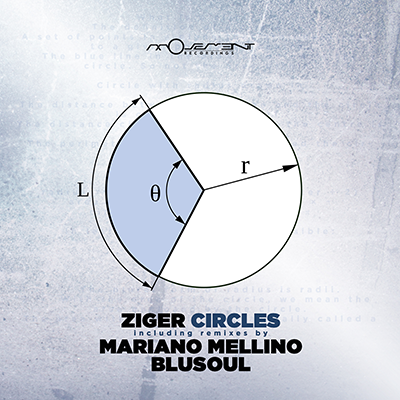 Artist: Ziger
Title: Circles
Remixers: Blusoul, Mariano Mellino
Release Date: 12/10/2015 
Supported by: Hernan Cattaneo, Nick Warren, Guy J, Guy Mantzur, Karotte, Sasha, Aidan Lavelle (U.N.K.L.E.), Silicone Soul, Petar Dundov, Henry Saiz, Edu Imbernon, Jimmy Van M, Max Graham, Audio Junkies, Khen, Lonya, Chicola, Stas Drive, Marcelo Vasami, Oliver Weiter, Kosmas Epsilon, Darin Epsilon & many more .. !!
The 113th release on Tash's Movement Recordings welcomes Ziger back to the label for his debut single. The Greek artist first appeared on the Greek imprint in June of this year with a contribution to the label's 'Re:Born' compilation. The track 'Circles' turned out to be one of the stand out selections from the release and was quickly followed with originals and remixes for Plattenbank, 3rd Avenue and Welcome Music. Now as the summer is winding to a close Movement Recordings presents the official release of 'Circles' alongside remixes from Blusoul and Mariano Mellino.
The release gets underway with the original mix which has already generated quite a bit of hype since appearing on 'ReBorn'. Ziger's polished production chops and timeless progressive sensibility won a broad range of the DJs over. Beginning with a warm chugging groove, a cross cultural vocal motif soon gets introduced, which is sure to delight all the old school lovers out there. Airy pads and a cool rhythmic complement build mystery and momentum over the records first act. Alien-like vocal gates then initiate the main break before a spaced out synth brings you into deeper hypnosis. The restrained return of the groove keeps things cool and classy while a dreamy third act finishes the piece out on a high note. Gorgeous work from Ziger who can't seem to put a foot wrong at the moment.
The first interpretation of 'Circles' is provided by Blusoul who is making his first appearance on Movement Recordings. The Greek producer has been enjoying a great year with the announcement of his 'Modular Memories' production getting signed to Guy J's Lost & Found Records, as well as being played by John Digweed on Transitions. As progressive house fans eagerly await new Blusoul material Movement Recordings presents his first new production in over two months. In going with a deeper, chunkier sensibility the much loved Greek artist has delivered a superb complement to the driving original. Mystical motifs quickly surround the framework as waves of percussion build momentum. The main break only enhances the spiritual nature of the production with a myriad of psychedelic designs delighting the senses. With Blusoul's immaculately carved groove building tension the kick drops back in along with those distinctive vocal themes, making for the ultimate dance floor moment. Excellent remix from Blusoul.
The second and final interpretation of 'Circles' is provided by Mariano Mellino who is returning to the label for his fourth appearance. The Argentinian producer first appeared on the Greek imprint with a contribution to the label's 'Technical Progress Vol. 4' compilation released in June of 2014. More recently Mariano is fresh off the release of his four track EP for Hernan Cattaneo's Sudbeat Music and has also released on Lonya's Asymmetric Recordings. For his 'Circles' interpretation Mariano has gone deep and dubby with sensational results. The Argentine's bouncy beats and quirky rhythms bring an esoteric vibe to the production while a more indistinct take on the vocal elements keeps the mystery of the track high. Spaced out designs dominate the records third act and ultimately provide a very intriguing end to the release. Heady stuff from Mariano which is not only going to be a pleasure to dance too but also enjoy on a more subversive level. Another standout release from Movement Recordings. Don't miss it.

Distribution by Proton LLC
Mastering by Rogier Schouten
Artwork by MJD Creative
www.movement-recordings.net
www.facebook.com/movementrec
www.soundcloud.com/movement-recordings