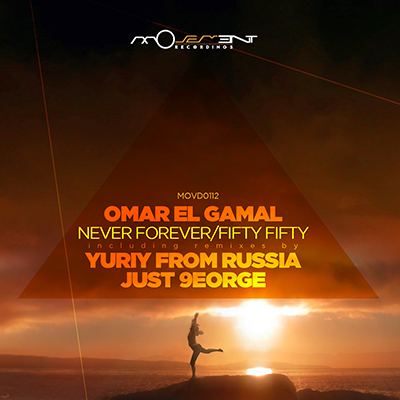 Artist: Omar El Gamal
Title: Fifty Fifty / Never Forever
Remixers: Just 9eorge / Yuriy from Russia
Release Date: 28/09/2015 
The 112th release on Tash's Movement Recordings welcomes Omar El Gamal back to the label for his debut EP. The long time favourite of Hernan Cattaneo and Markus Schulz is now based in Miami, Florida and first appeared on the Greek imprint in November of 2013, with a contribution to the label's 'Technical Progress, Vol. 3' compilation. Now almost two years later Omar returns for his debut EP alongside remixes from Just 9eorge and Yuriy From Russia.
The release begins with 'Fifty Fifty' which showcases Omar's mystical sound perfectly. Anchored by a low slung groove the piece works through a range of touching atmospheric motifs while the driving drums build momentum towards the main break. Here an indistinct bell theme becomes more realized and the subtle emotion of the track lifts nicely before Omar's commanding beats return along with a wave of percussion and incandescent synths. Gorgeous work form Omar.
The lone interpretation of 'Fifty Fifty' is provided by Just 9eorge who is returning to Movement Recordings for this third appearance. The Greek producer and one half of the 9West production duo has been exploring different stylistic blueprints under his solo alias and made his Movement Recordings debut a memorable one when Nick Muir featured 'Barbouni' on John Digweed's his much loved Transitions radioshow. For his 'Fifty Fifty' interpretation Just 9eorge has gone deep and atmospheric with great results. The mystical vibe from Omar's original gets a new face here but the incredible vibe remains. Spiralling electronics and a murky overlay set the ultimate backdrop for a dubby groove and amazing guitar elements to work their magic. Excellent remix from Just 9eorge.
The companion piece 'Never Forever' finds Omar crafting another atmospheric beauty. A driving groove sets the piece in motion before a vocal storyboard begins to develop along with a luminous bell loop. As the phasing textures build, a bubbly synth hook drops in to lock the groove down further. The space themed vocals lead to more drama during the main break before a gaseous sweep reignites the groove and ultimately a great finish. Another beauty from Omar.
The lone interpretation of 'Never Forever' is provided by Yuriy From Russia who is making his fourth appearance on Movement Recordings. The Russian producer first appeared on the label all the way back in 2011 with a contribution to the 'Cold Beats' Sampler and also remixed 'In Your Shadow' by Beat Syndrome in September of 2013. For his 'Never Forever' interpretation Yuriy has stayed true to the dreamy vibes from the original all while reshaping the bass line into a perfectly contoured beast. A third act full of spaced out designs and trippy electronics takes the track to the new heights which ends the EP off on a strong note. Certainly one of Yuriy's best remixes this year and a great offering from Movement Recordings once again. Don't miss it.

Distribution by Proton LLC
Mastering by Rogier Schouten
Artwork by MJD Creative
www.movement-recordings.net
www.facebook.com/movementrec
www.soundcloud.com/movement-recordings