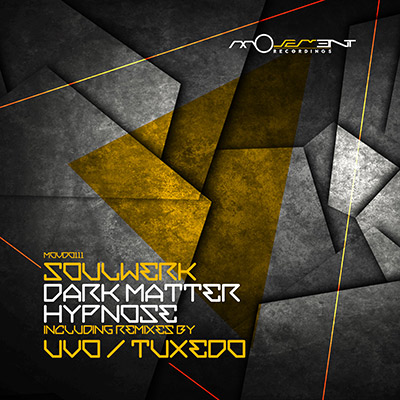 Artist: Soulwerk
Title: Dark Matter / Hypnose
Remixers: Uvo, Tuxedo
Release Date: 07/09/2015 
The 111th release on Tash's Movement Recordings welcomes Soulwerk to the label for his debut EP. The Spanish producer has been a mainstay of top underground labels such as Hope Recordings, Replug Records and Proton Music. His progressive techno sound has been a favourite of Hernan Cattaneo, Nick Warren and Cid Inc over the years, and now he steps up to deliver his first EP for Movement Recordings alongside remixes from Tuxedo and Uvo.
The release begins with 'Dark Matter' which finds Soulwerk crafting another one of his enigmatic club grooves. Based around a shifty, percussive framework the Spanish producer soon builds dramatic tension with a variety of dubby rhythms and strong motifs. The underlying hypnotic drive then grows with colourful stabs and mesmerizing rhythms lighting up the atmosphere. A solemn break proves to be the perfect centre piece for the classy grooves and sets up a trippy conclusion that's sure to lift the mood of any room.
The lone interpretation of 'Dark Matter' is provided by Tuxedo who is making his fourth appearance on Movement Recordings. The Polish producer and head of Electronic Tree has been having the best year of his career, his original productions for 238W and Pro-B-Tech have been outstanding along with remixes for Particles, Stripped Digital and Soundteller Records. He's also delivered some of his best ever work for Movement in the form of his 'Slideshow' EP released in December of 2014. For his 'Dark Matter' interpretation Tuxedo has gone deeper and funkier with excellent results. Anchored by a well carved groove and bubbly rhythms, it's a warm fluid ride all the way to the main break. Angelic pads, symphonic designs and scattered drums only add to the positive emotions and once the kick returns it's an invigorating journey filled with ultrasonic character until the end. Wonderful remix from Tuxedo.
The second original 'Hypnose' proves to be an excellent complement to 'Dark Matter'. It's uptempo, techno minded approach delivers that peak time intensity which is sure to deliver magic on the dance floor. Buzzing synths combined with electric rhythms and charged drums build sizeable tension before a tripped out break and big drop makes for that big moment. A massive production from Soulwerk and surely one of his biggest to date.
The lone interpretation of 'Hypnose' is provided by Uvo who is making his ninth appearance on Movement Recordings. The Mexican producer and Intemporal label boss is fresh off the release of his 'Dreamcatcher' (also for Movement Recordings) collaboration with Argentinean producer Lautaro Varela. Uvo's been back to his solo remixing ways of late and he's delivered another wonderful production for his 'Hypnose' interpretation. In going with a sparser approach Uvo has managed to convey that killer instinct of the original but on a slightly less aggressive scale. The spacious groove and evolving textures make for a dreamlike quality which a twinkly motif accentuates wonderfully during a tasteful conclusion. Excellent remix from Uvo which rounds out another stellar offering from Tash's Movement Recordings. Don't miss it.

Distribution by Proton LLC
Mastering by Rogier Schouten
Artwork by MJD Creative
www.movement-recordings.net
www.facebook.com/movementrec
www.soundcloud.com/movement-recordings