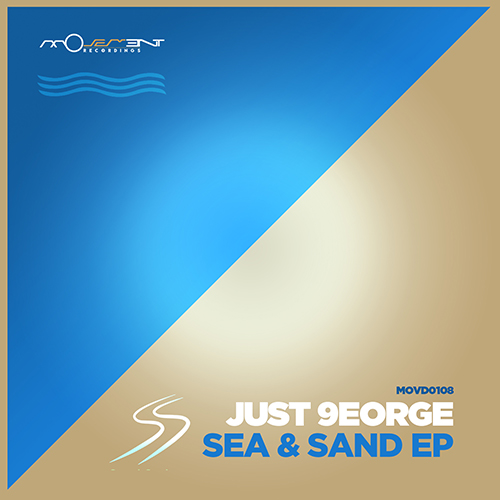 Artist: Just 9eorge
Title: Sea & Sand EP
Release Date: 20/07/2015 
 The 108th release on Movement Records welcomes Just 9eorge to the label for his debut EP. The Greek producer and one half of the 9West production duo has been exploring different stylistic blueprints under his solo alias, and has already had his music featured on Audiomatique Recordings. His debut EP for Movement Recordings is entitled 'Sea & Sand' and features four brand new original productions.
The release gets underway with the title track 'Sea & Sand' which finds Just 9eorge exploring a soulful housey vibe. The Greek producer's groove is perfectly dialing in for the dance floor and a complement of guitar hooks and wonderful vocals adds some strong emotional content. The second selection 'Sandorina Sunset' goes a touch deeper and more musical with strong guitar motifs and vibrant rhythms leading the way. Elegant chord changes make for a smooth and exhilarating ride which peaks following a gorgeous break. 'Aegean Pulse' then follows suit with distinctive vocal stabs adding a dark tone which plays off the soulful hooks wonderfully. The fourth and final selection 'Barbouni' features more of a dubby, indistinct approach with delicate lines and a more minimalistic yet equally funk infused groove. It rounds out what is as exceptional EP from Just 9eorge highlighted by great dance floor sensibility and excellent musicality. Don't miss it.

Distribution by Proton LLC
Mastering by Rogier Schouten
Artwork by MJD Creative
www.movement-recordings.net
www.facebook.com/movementrec
www.soundcloud.com/movement-recordings