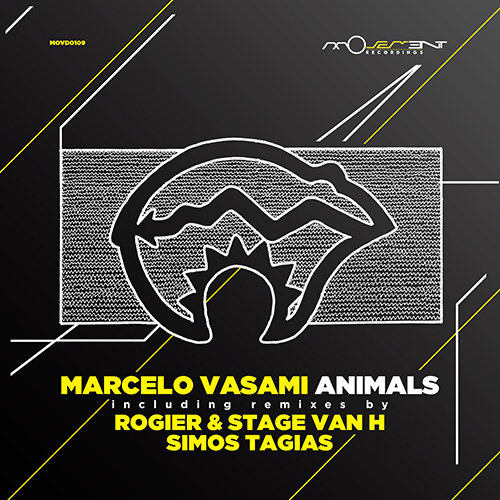 Artist: Marcelo Vasami
Title: Animals
Remixers: Simos Tagias, Rogier & Stage Van H
Release Date: 20/07/2015 
The 109th release on Tash's Movement Recordings welcomes Marcelo Vasami back to the label for a brand new single. The Argentinean producer has been an integral part of the Movement roster since his label debut in October of 2012. As one of Argentina's most recognised and long standing progressive house artists Marcelo has continued to push his deep and groovy sound which each successive release. His latest entitled 'Animals' looks to be his best yet and includes remixes from Simos Tagias and Rogier and Stage Van H. 
By all accounts Marcelo's had another great year thus far. Releases on Classound Recordings, Dopamine Music and Whose Haus have all been stellar and the hugely anticipated 'Animals' does not disappoint either. As one of Marcelo's deepest and most enchanting creations it's dubby beats and strong motifs are immediately alluring. Following a groovy intro, jangly synth hooks begin to take shape and lead the track into the main break. Perfectly tailored for summer play Marcelo's sea-side melodies take you on an enchanting journey through the break and onward. There's a lot to like about this one and you'll no doubt be hearing it over the coming summer season.  
The first interpretation of 'Animals' is provided by Simos Tagias who is returning to Movement Recordings for his third appearance. The Greek producer and Movement bookings artist is fresh off an amazing remix of Alberto Blanco and Marcelo Paladini 'New Intention' released courtesy of Dopamine Music. Other 2015 highlights include appearances on Temporum Music and Magic Room. Simos' groovy style is perfect for all the new school progressive DJs out there with Hernan Cattaneo and Cid Inc being two of his biggest supporters. For his 'Animals' interpretation Simos has beefed up the groove a touch and added an airy atmospheric sheen which gives the track quite a spacious feel. Marcelo's outstanding motifs are well conveyed and with a heartfelt twist. A third act of charming textures and poignant keys makes for a slow burning build and ultimately an exhilarating conclusion. Excellent remix from Simos.  
The second interpretation of 'Animals' is provided by Rogier & Stage Van H who are making their 11th appearance on Movement Recordings. The Netherlands based duo have been heads down in the studio for the last year and their production output has more than doubled as a result. As an integral part of affiliate Just Movement Rogier and Stage have earned a huge following for their deep enchanting grooves and have delivered another exceptional remix here. Sitting somewhere in between the original and Simos in terms of scope and tempo it proves to be a great complement. The duos feathered textures, soft vocal pads and airy harmonies are a joy to listen to while a strong groove makes it great for dance floor as well. This is one production duo that seems to do no wrong, an excellent remix to round out another top notch offering on Movement Recordings. Don't miss it. 
Distribution by Proton LLC
Mastering by Rogier Schouten
Artwork by MJD Creative
www.movement-recordings.net
www.facebook.com/movementrec
www.soundcloud.com/movement-recordings