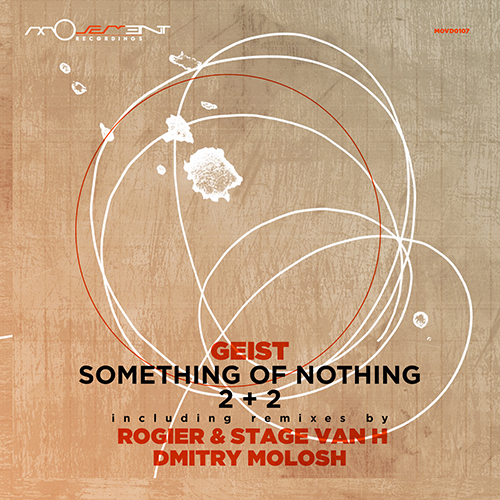 Artist: Geist
Title: Something of Nothing / 2+2
Remixers:  Dmitry Molosh, Rogier & Stage Van H
Release Date: 06/07/2015 
The 107th release on Tash's Movement Recordings welcomes Geist to the label for a brand new EP. The UK Born but now Sweden based producer has been a mainstay of Lonya's Asymmetric Recordings roster since the inception of the moniker. Previously under his Glen C. alias Geist was a regular on the European festival circuit and also an integral part of Iboga Records. Geist now makes his debut on Movement Recordings with 'Something Out Of Nothing / 2 + 2' which include remixes from Dmitry Molosh and Rogier & Stage Van H. 
The EP begins with 'Something Out Of Nothing' which finds Geist exploring a unique fusion of sounds. Beginning with an intricately produced and minimalistic groove Geist begins to reveal a storyboard of fresh electronics. Well carved bass stabs, vocal motifs and orchestral harmonics carry the track through the break before the stripped down groove returns. Glassy keys serve as an elegant transition back to the bassy theme which then builds to a rousing conclusion. A wonderful composition from Geist and surely one of the best of his career. 
The lone interpretation of 'Something Out Of Nothing' is provided by Dmitry Molosh who is returning to Movement Recordings for his fifth appearance. The Belarus based producer and Genesis Music co-owner has had an incredible year thus far. A long line of Hernan Cattaneo supported productions have led the way with the most recent being 'High' which was featured in the storied DJs Moonpark set. For his 'Something Out Of Nothing' interpretation Dmitry has taken all those incredible elements from the original and reshaped them into a deep, hypnotic bomb. Dubby grooves, smooth rhythmic hooks and an electric energy make for a huge dance floor sensibility, and the short but impactful break delivers that much sought after magic moment. Beautiful remix from Dmitry. 
The companion piece '2 + 2' proves to be an excellent complement to the multi-themed 'Something Out Of Nothing'. A deeper and funkier sensibility is explored here with layered beats, subterranean tones and orchestral stabs. Shifty rhythms and esoteric designs not only make it great for the dance floor but an intriguing listen as well. A growing atmospheric presence just adds to the mystical vibe and offers some wonderful tension as the thematics reach an exhilarating peak.  
The lone interpretation of '2 + 2' is provided by Rogier and Stage Van H who are making their eleventh appearance on Movement Recordings. The much loved duo released some of their first ever productions together courtesy of the Greek imprint and now over four years later remain an integral part of the label. Fresh off several outstanding productions for affiliate Just Movement Rogier and Stage have worked their deep, progressive house magic once again on '2 + 2'. The duos warm, pulsating grooves are as smooth as ever here and the accompanying sax motifs conjure up many soulful vibes. Soft rhythms and a spoken word design lead the piece higher to heavens where a more distinct melodic theme surfaces. These floaty textures make for a dreamy conclusion and also the ideal piece to close the release off. Excellent remix from Rogier and Stage, and another top notch offering from Movement Recordings. Don't miss it.