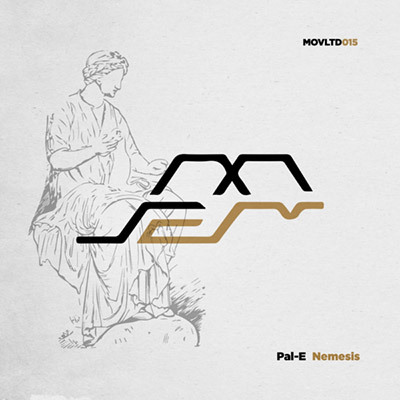 Artist: Pal-E
Title: Nemesis EP
Release Date: 27 May 2022
Supported by: Chris Lake, James Zabiela, Ilario Alicante, Claude VonStroke, Paco Osuna, Armen Miran, Lonya, Paul Anthonee, Jorgio Kioris, ZIGER, DJ Ruby, Futur-E, Ric Niels, Weird Sounding Dude, ao.
Movement Limited opens the month of May by welcoming Pal-E to the label for his debut EP. Arpit Paliwal a.k.a Pal-E has long been one of India's most recognized DJs, having shared the booth with Guy J, Cid Inc, Petar Dundov and more. As a producer, the Jaipiur resident first emerged in 2016 with the release of 'Magical Mount Kailash' via Michael A's Genesis Music. The progressive minded release caught the attention of fans and tastemakers alike, eventually leading to a follow-up for the label and additional projects for AH Digital, Asymmetric Recordings and Modern Agenda. Now adding Movement Limited to his resume, Pal-E debuts on the label with 'Nemesis'.
Beginning with the title selection, Pal-E aims squarely at a peak-time dance floor with one of his biggest productions to date. Backed by punchy beats and a warm, rolling groove it's got infectious energy from the outset. Its powerful drive is encased in a perfect balance of electric rhythms, finely tuned percussion and cosmic motifs. Nostalgic chord changes gently elevate mood while bringing greater emotional depth as the main break approaches. Wavy arps rise across the interlude, complete with a metallic tinge and flowing through tension-filled modulation as the groove drops for a headstrong finale.
Moving on to selection two, the journey continues with the chugging vibes of 'Blue Edges'. Immediately captivating, its muscular bassline, hopeful tones and creamy atmospheres make for a groovy first act. Rolling percussion and pensive overlays play off the well carved low end, making for an irresistible, hip swinging groove leading into the break. Glowing swells and emotive overlays create a colourful canopy of sound as the centrepiece evolves, building anticipation towards an uplifting final movement.
The release concludes in fine fashion with the peak-time qualities of 'Essential Presence'. Beginning with perfectly sculpted beats and buzzing rhythms, it's a production that's compelling from the start. Sweeping effects slowly encase the framework, as fragmented arps shapeshift through a forest of clattering percussion. Building to a feverish pitch as the main break approaches, its colourful synth phrasing which proves to be the most striking, adding further depth and emotion throughout a spine-tingling apex. Energetic and poignant in equal measure, it rounds out what is an inspired artist showcase from Pal-E, an artist who continues to rise up through the progressive house landscape as 2022 moves towards quarter number three.