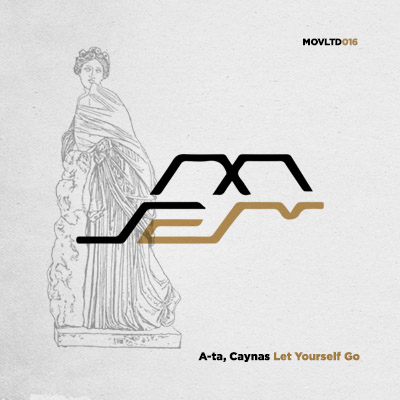 Artist: A-ta, Caynas
Title: Let Yourself Go
Release Date: 24 June 2022
Supported by Joris Voorn, Ilario Alicante, Anthony Pappa, Kadosh, Paul Anthonee, Tash, Zifwe, Abstraal, Futur-E, Eric Lune, DJ Zombi, Ric Niels, ao. 
Tash's Movement Limited opens the summer season by welcoming A-ta and Caynas to the label for their debut EP. Hailing from Turkey, Faith Ata aka A-ta is a producer and performer who first emerged in 2021 with a release via Lump Records. Immediately recognized for his deep organic style, the Istanbul resident went on to record projects for IAMHER, Natura Viva, Stripped Digital and more. Meanwhile, Berk Kaynas aka Caynas also hails from Turkey and began playing instruments such as piano, guitar and trumpet from a young age. Working in Istanbul as a producer and DJ, Caynas has also found a home on IAMHER where his deep sounds have flourished. Having worked together previously, A-ta and Caynas now continue to build on their creative synergy with their Movement Limited debut 'Let Yourself Go'.
Spread across three tracks it is the soulful sounds of the title selection which lead the release off. Captivating from the start, its perfectly sculpted beats are warm and powerful, anchoring a fluid, key changing foundation which serves as the vehicle for a soulful vocal narrative to play out. Emotive bass swells and tranquil arps only add to its transcendent vibe, while the break seals its brilliance with further vocal phrasing and late-night instrumentation.
The EP continues with the esoteric moods of 'Return'. Nicely tied to the ethos of the release, the duo marries a variety of fragmented vocal concepts with meditative rhythms and spirited instrumentation. Unique and quirky in equal measure, it's throbbing bass stabs and glassy arps eventually give way to buzzing tonal tension, which ultimately serves as the zenith for this exploratory excursion.
The release concludes in fine fashion with the reflective vibes of 'Gowpen'. Immediately compelling, it's warm bass tones and dulcet beats lay the foundation for ghostly vocal wails, elastic-like tones and timely guitar slides. Its effortless mood grows subtly, as tasteful modulation and a plucky lead theme add an impassioned slant to what is already a magical storyboard. Compelling work from A-ta and Caynas, which makes for an excellent Movement Limited debut for the Turkish duo. Highly recommended