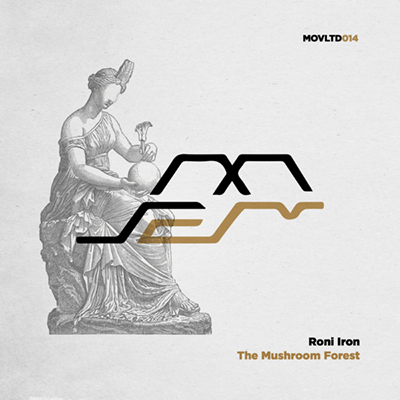 Artist: Roni Iron
Title: The Mushroom Forest EP
Release Date: 29 April 2022
Supported by: John Digweed, Claude VonStroke, Ilario Alicante, AFFKT, Kadosh, Simos Tagias, Abstraal, ZIGER, Lonya, Simon Vuarambon, Tash, Futur-E, ao. 
Following on from the success of last years 'Reborn', Roni Iron returns to Movement Limited with 'The Mushroom Forest'. Based in Nafplio, the Greek artist has found a comfortable home on the Movement label family. Roni's debut on the Greek imprint came in 2015 with a well-received remix of Candy Lips' by T.Pals and John Teki, before going on to contribute original productions to the label's Modern Filosophy' and Technical Progress' collections. October of last year marked Roni's debut EP for the Greek imprint, with the release of 'Hidden Places', which ultimately set the stage for his Movement Limited debut 'Reborn' just a few short months later. Now landing back on the Limited offshoot, Roni unveils his latest studio creations as part of a two-track showcase entitled 'The Mushroom Forest'.
Beginning with the title selection, Roni furthers the sentiment that his compositions drift above the rest of existence. Whether it's the hauntingly layered musical fragments, or the sleek meditative framework which houses his dusty percussive arrangements and cross-cultural phrasing, there is a spiritual lean to his work that you just can't ignore; all encompassed within 'The Mushroom Forest' and making for a transcendent eight-minute journey.
Meanwhile 'Nirvana Dreams' drifts further into the depths of organic textures and spiritual motifs. Exotic drums, fluttery sonics and meandering instrumentation unite for an otherworldly storyboard, one which invites you to surrender to its captivating power and ultimately puts a stamp on this resounding release. It rounds out two stunning compositions from Roni Iron, who makes an impressive return to Movement Limited with 'The Mushroom Forest'. Don't miss it.