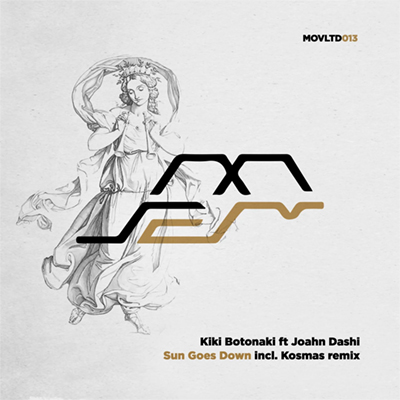 Artist: Kiki Botonaki ft Joahn Dashi
Title: Sun Goes Down
Remixer: Kosmas
Release Date: 18 February 2022
Supported by: Eelke Kleijn, Mariano Mellino, Kadosh, Lonya, Tash, Paul Anthonee, Futur-E, Weird Sounding Dude, DJ Ruby, ao.
The latest release from Tash's Movement Limited welcomes Kiki Botonaki to the label for her debut single. Hailing from Greece, Kiki Botonaki has been a fixture of her country's electronic music culture for the better part of two decades. A Dj first, the Thessaloniki resident has held residencies at some of the Greece's most well-established venues, such as Club Vogue, Shark Bar-Restaurant, Zucca, Piccadilly, The Real Rock 'n' Rolla and Aigli Geni-Hamam. Also highly regarded as a radio personality, Kiki has held a daily three-hour slot on FLY 104 which is widely considered the best radio station in Thessaloniki. Enjoying similar success as a producer, her dance floor minded creations have continued to delight club-goers over the last six years, while also finding a home on Break The Rule Records, Stab Recordings, DAL Recordings, Seres Producoes. Now adding Movement Limited to her resume, Kiki debuts on the label with 'Sun Goes Down', alongside a remix from Kosmas.


On 'Sun Goes Down'' it is Kiki Botonaki's masterstroke to collaborate and introduce the vocals of Joahn Dashi. From its warm, key changing groove comes bright percussive arrangements, liquid-like rhythms and misty harmonics. Evolving with skill and class, Joahn's chops resonate with a smokey, hook-heavy flair; adding space and depth as perfectly juxtaposed motifs continue to raise its hip-swinging appeal. Expanding further across the main break, the vocal narrative evolves, flowing through thoughtful phrases onwards to a powerful drop and driving finale.

The release concludes with Kosmas making his label debut and providing the lone interpretation of 'Sun Goes Down'. In one form or another the Greek producer has been a mainstay of the electronic underground for two decades, having showcased his music via top tier imprints such as Akbal Music, Kindisch, Sol Selectas and Sudbeat. No stranger to the Movement Recordings family, the Xanthi resident has appeared on the label group's primary imprint three times since making his first appearance in 2016. Coming off a year that was highlighted by a release via Madorasindahouse Records, Kosmas now begins the new year with a stunning rendition of 'Sun Goes Down'. Buoyant beats, pulsating rhythms and striking percussion serve to anchor the journey, as reprocessed vocals and colourful chord stabs converge across an enthusiastic soundscape. It's nose for the dancefloor grows as emotive chord changes carry energy throughout the first act, while Joahn's distinctive phrasing steals the air, perfectly setting up a timely break and charged conclusion. A spirited interpretation from Kosmas which rounds out two impressive label debuts for both himself and Kiki Botonaki. Highly recommended.