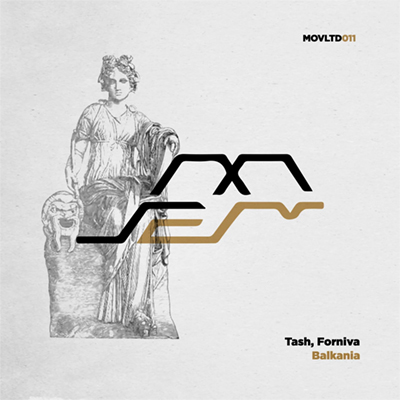 Artist: Tash, Forniva
Title: Balkania EP
Release Date: 17 December 2021
Supported by: Above & Beyond, Acid Pauli, Adriatique, Agoria, Âme, &ME, Anja Schneider, Armen Miran, Armin van Buuren, Audiojack, Be Svendsen, Bedouin, BEHROUZ, BLOND:ISH, Danny Tenaglia, Dixon, Hunter/Game, John Digweed, Joris Voorn, Newman I Love, Paul Oakenfold, Pete Tong, Red Axes, Sabo, Sasha Carassi, Solomun, ao.
Movement Limited caps off a successful first year with a much-anticipated EP from Tash and Forniva. Greek artist and Movement Recordings boss Tash has had a prolific year thus far. Releases via Lowbit Records, Mango Alley, Just Movement and UV Noir have all been standouts, as he continues to tread the waters between progressive and melodic house and techno. Meanwhile, Bosnian artist Forniva first appeared on parent label Movement Recordings in 2018 with a remix of Emi Galvan's excellent 'Dopamine', before going on to appear on the label's popular 'Technical Progress' series later that same year. Fast forward three years and Forniva has become a Movement Recordings stalwart, delivering five originals and a remix across that stretch. Now as 2021 winds to a close Tash and Forniva combine their creative forces for a much-anticipated three-track showcase entitled 'Balkania'.
With a blend of contemporary musical elements, it is the title selection which gets the EP underway. Complementing its tough rolling groove are punchy beats, luminous tones and flurries of indie-inspired drums. Unconventional synth phrasing and dynamic chord stabs marry across a tense first act, before opening up into an effects-laden break and devilish finale.

The second selection 'Palace Of Aegae' follows and finds Tash and Forniva crafting a modern dance floor blueprint once again. Quirky hooks blanket the driving, drum-heavy groove, as buzzing synth motifs flow through the framework. Building tension further, the second of two breaks allows the distinctive lead to breathe, keeping rhythmic flow locked, while smoothly segueing into a stripped-down drop and electric final movement.

The release concludes with the emotive sounds of 'Tribe Of Sithones'. Fuller and more progressive minded than its predecessors, the duo marry symphonic themes and ghostly vocal elements over key changing grooves and a plethora of neatly manicured drum arrangements. Nostalgic in mood throughout, it is a timely break which resonates most brightly, building to a melodic frenzy and ultimately spearheading a euphoric finale. It rounds out three fresh and inspired tracks from Tash and Starkato, a duo who have made a strong statement with their first ever collaborative EP. Highly recommended.