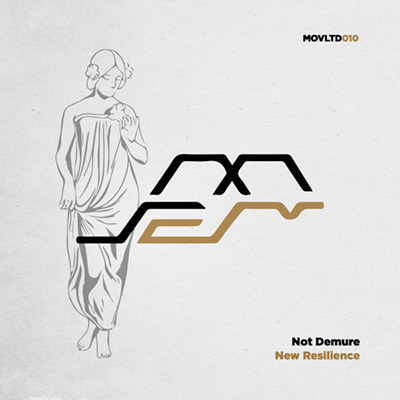 Artist: Not Demure
Title: New Resilience
Release Date: 19 November 2021
Supported by:  Damian Lazarus, Anthony Pappa, Cid Inc, Nick Muir, MOSHIC, Mike Koglin, Forty Cats, Newman I Love, Mariano Mellino, ZIGER, Basil O'Glue, Jorgio Kioris, Nicolas Rada, DJ Zombi, Kasey Taylor, Wurtz, Graziano Raffa, ao.
The latest release from Movement Limited welcomes Not Demure to the label for his debut EP. Born in Argentina and now based in Spain, Not Demure first emerged in 2017 with releases courtesy of Hitclub and TOTUM Music. Gaining momentum and fans quickly, the Mar del Plata native went on to showcase his music via LAIKA Sounds, Magician On Duty and Univack. Also finding a home on Movement Recordings, Not Demure's contribution to the label's 'ProgNoesis' Vol. 1 collection went on to be played by Guy J and still sits at the top of his Beatport best sellers almost a year later. Now stepping up to label affiliate Movement Limited for his first appearance, Not Demure presents his much anticipated 'New Resilience' EP.
Beginning with the title selection, Not Demure continues to explore the organic side of his studio repertoire with great success. From warm, rhythmic beginnings comes redolent themes and exotic percussive arrangements. It's an amalgamation of trippy sonics and free flowing organics which proves most captivating, touching the listener with moments of hope and reflection, as a bed of dulcet beats and thumping bass stabs translates that message to the dance floor. Gentle melodic fragments and wispy atmospheres emerge into the break, where a wonky musical theme takes centrestage. Striking in execution and perfectly setting in motion a timely drop and dreamy finale.
The two-track showcase concludes with the alluring sounds of the title selection 'Are You In'. Possessing an appealing undercurrent, it's dulcet beats and wavy synth phrasing creates a warm glow from the outset. Pensive atmospheres and hazy harmonics add further to that narrative, as sheets of dusty percussion and meandering effects push forward to an amorous conclusion. It rounds out two inspired tracks from Not Demure, who makes his Movement Limited debut in fine style.