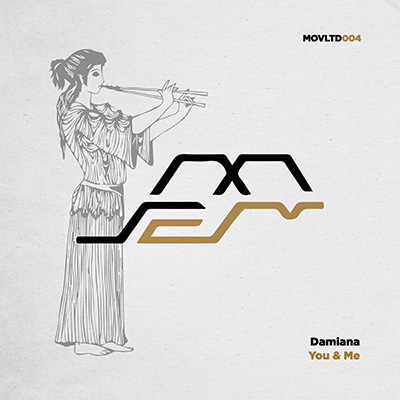 Artist: Damiana
Title: You & Me
Release Date: 4 June 2021
Supported by: MOSHIC, Solarstone., Max Graham, Lonya, ZIGER, Chris Fortier, Mike Griego, Newman, Jorgio Kioris, Graziano Raffa, Sanjay Dutta, ao.
The latest release from Tash's Movement Limited imprint welcomes Damiana to the label for her debut EP. Although a new name in the world of electronic music, the Serbian artist has been an accomplished musician for some time. Learning to play the piano at the age of seven eventually led to a master's degree in Classical Music in 2012. Over the better part of the last decade Damiana has been a member in several bands as a piano player, performing a variety of styles from Rock to Funk to Electronic, while also playing live alongside cutting-edge DJs. Drawing inspiration from Jean Michele Jarre and Stephan Bodzin, Damiana has been creating her own original music of late, based around a live performance concept. Now debuting this sound to the world, the talented Serbian debuts on Movement Limited with a three-track showcase entitled 'You and Me'.
Drawing a variety of timeless sensibilities, it is the title selection which leads the release off. Captivating from the start, it's perfectly sculpted beats are warm and powerful, anchoring what is a fluid, key changing foundation. Crafted with precision and care, layers of tantalizing percussion are blanketed with kaleidoscopic arps and tepid swells. A symphonic top line rounds off the musical narrative quite nicely, leading to a break with indistinct vocal choirs and a quiet calm which perfectly sets up a gorgeous finale.
The journey continues with the thoughtful moods of 'Faith'. Nicely tied to the ethos of the EP, Damiana marries a variety of classical concepts with meditative rhythms and tranquil textures. It's a transcendent and highly emotive storyboard, culminating with a maze of arpeggiated keys and symphonic swells, the combination of which makes for a hugely memorable conclusion.
The release is capped off in fine fashion with the reflective vibes of 'Never'. Immediately compelling, it's deliberate bass tones and broken beats lay the foundation for meandering arp fragments, ghostly vocal wails and a hugely emotive lead line. Its effortless mood grows subtly, as tasteful modulation and placid pads add an impassioned slant to what is already a magical storyboard. Compelling work from Damiana, which rounds out a collection of music that makes her an artist to watch going forward. Highly recommended.