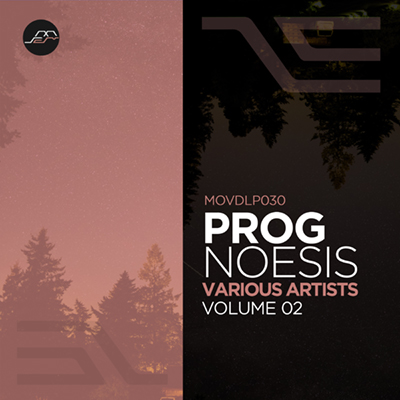 Artist: Various Artists
Title: ProgNoesis, vol.2
Featured Artists: I.R.A.L.I, Goda Brother, MAAND, Gonzalo Sacc, Franco Leonardini, Nas Horizon, George Harbas, Der Effekt, Yellow Space, HAARI, Jickow
Tash's Movement Recordings caps off the month of November by unveiling the second installment of their 'ProgNoesis' series. Landing in December of 2020, the inaugural edition of 'ProgNoesis' featured an amalgamation of progressive house and melodic techno, with a cohesive blend of both new and established artists delivering genre-defying tracks. The success of the first edition has more than whet the appetite for edition number two which appropriately arrives almost exactly a year later. Featured on the collection (in order of appearance) are: I.R.A.L.I., Goda Brother, MAAND, Gonzalo Sacc and Franco Leonardini, Nas Horizon and George Harbas, Der Effket, HAARI and Yellow Space and Jickow.
Hailing from the Ukraine and getting the release underway is I.R.A.L.I. Irina Lisovets aka I.R.A.L.I. began her DJ career in 2017, landing gigs at clubs and events upon completing a course at the famed Pioneer DJ School. A love for production soon followed with 2019 marking her first releases courtesy of Finder Records and Spring Tube. Beatport chart success also came quickly, as additional projects for Awen Records, ICONYC and Krafted Underground all enjoyed extended stays in progressive house and melodic house and techno. Now stepping up to Movement Recordings for her first appearance, I.R.A.L.I. presents her latest studio creation 'Star'.
Selection two finds Goda Brother making his label debut with 'Return'. The Egyptian artist has been a mainstay in the progressive music scene since first appearing in 2015 with releases via OLD SQL Recordings and Revelation. His trippy yet club friendly sound won over the genre's tastemakers and now five years on, Goda Brother lays claim to an impressive resume highlighted by projects for 3rd Avenue, Another Life Music, Balkan Connection and Eat My Hat Music. Goda Brother now adds Movement Recordings to his resume with the much anticipated 'Return'.
Since their first release in 2019, Italian duo MAAND have achieved great success. In just two short years the Naples residents have showcased their music via Black Rose Recordings, Bull In A China Shop, Lost On You, Love Matters and Somatic. The duo's astral sounds have remained fresh while also earning the praise of the genre's top DJs. Now continuing their artistic evolution, MAAND makes their Movement Recordings debut with 'Lanus'.
Having appeared on the first edition of 'ProgNoesis', Argentinean artist Gonzalo Sacc returns to the label alongside fellow countryman Franco Leonardini who makes his label debut. As occasional studio partners since 2019, the duo has showcased their deep and organic collaborations via AMITABHA, Pad Records and The Purr. Now uniting once again, Gonzalo and Franco unveil their latest studio creation for 'ProgNoesis' entitled 'Living For Today'.
The collection's halfway point is marked by another exceptional production duo Nas Horizon and George Harbas. Based in Athens, the Greek pair have been collaborating for over a decade when their first joint productions landed via Inkfish and Mistique Music. Their nostalgic progressive sounds have never wavered over the years, and now after a hiatus the duo makes a welcome return with their Movement Recordings debut 'Archipelagos'.
Selection six finds another well-established duo Der Effekt making their label debut. Hailing from Austria, Marcel Fenkart and Marco Glabonjat make up the Der Effekt production team and have amassed an impressive discography since first emerging in 2008. Top tier imprints Beat Boutique, Beatfreak, Freegrant, FSOE and UV have played host to the duo's dance floor minded creations. Now adding Movement Recording to their impressive resume, Der Effekt debut on the label with 'Das Licht'.
Making an impressive label debut with 'Rising' are HAARI and Yellow Space. With a combined discography that features releases courtesy of Area Verde, Groove Records Dublin, Habits Records, Outta Limits and Revolt Music, both artists are enjoying a steady rise in the world of melodic and progressive house. Hypnotic rhythms and euphoric melodies transcend time and space on their productions, with their Movement Recordings debut 'Rising' being their most anticipated to date.
The release concludes with label artist Jickow returning following his well-received 'Run and Jump' EP from July of this year. Beatfreak and Freegrant Music have also played host to the French born, Belgian based producer. Having contributed a selection to 'Celestial', a maxi-ep release by Movement affiliate Astral Records, Jickow now returns to the main Movement stage and rounds out the second installment of 'ProgNoesis' with the much-requested instrumental version of 'Sweet Sadness', a track which initially appeared on the 'Run and Jump' EP. Full of energy and power, it makes for an ideal closing piece to an excellent second edition of 'ProgNoesis'. Don't miss it.