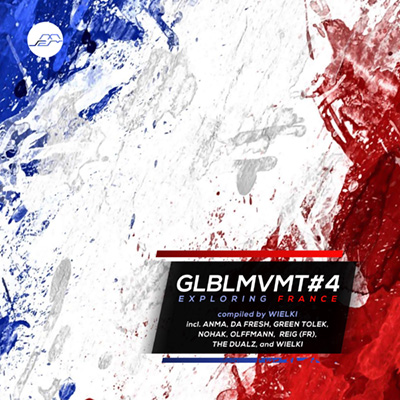 Artist: Various Artists
Title: GLBLMVMT#4 / Exploring France
Compiled by:  Wielki
Featured Artists: Da Fresh, Olffmann, ANMA, Nohak, Wielki & Reig (FR), Green Tolek, The Dualz

Supported by Above & Beyond, Adriatique, Agoria, Âme, Animal Trainer, Armen Miran, Armin van Buuren, Damian Lazarus, Danny Tenaglia DJ, Dubfire, Edu Imbernon, Gai Barone, Graziano Raffa, John Digweed, Joris Voorn, Mariano Mellino, Markus Schulz, Pete Tong, Solomun, ao
The latest release on Tash's Movement Recordings finds the label showcasing the fourth installment of its GLBLMVMT' series. These region-specific compilations were first unveiled in 2018 with Federico Monachesi curating the progressive hotbed of Argentina. Moving forward, the label unveiled a new edition each year, with Cyprus and India being the chosen destinations, expertly curated by Paul and Don and Aaryan across 2019 and 2020 respectively. Now unveiling the fourth and much anticipated edition, Movement has called upon Wielki to curate the talent rich region of France. Featured on the collection in order of appearance are: Nohak, The Duelz, ANMA, Da Fresh, Olffmann, Wielki, Reig and Green Tolek. 
Getting the release underway and making his label debut is Nohak. Based in Lyon, the French artist has been a fresh name in the melodic house and techno world of late. 2020 proved to be Nohak's best year to date, notching releases for Infinite Depth and Somatic Records, while receiving play and support from Tale Of Us and Oostil. 2021 has seen Nohak debut on Movement affiliate Astral Records with the well-received Diamonds' EP. Now following releases for Awen Records, Nohak brings his cosmic techno sound to Movement with the electric vibes of Symbiosis'.
Next, we travel to Montpellier where production duo The Dualz resides. Famed for their releases on Parquet Recordings, Ton Töpferei and UK behemoth Anjunadeep, The Dualz has achieved remarkable success in relatively short order. With a career that spans the better part of a decade, the duo's fresh blend of melodic, deep and progressive house has found its way into the sets of the underground's premiere tastemakers. Now fresh off the release of their latest Anjunadeep vehicle Inside Me', The Dualz makes a welcome Movement Recordings debut with the melodious sounds of Robot Heart'.
The collection's third selection welcomes ANMA to the label for his first appearance. With his first release coming just three years ago the French artist has compiled an impressive resume, highlighted by releases on ICONYC, Mango Alley and Polyptych. Now as staple in Beatport's melodic house and techno and progressive house charts, ANMA now makes his Movement Recordings debut with the vocal led, peak time vibes of Deep In Your Head'.
Next up is Da Fresh who returns to the label for his second appearance. As a producer and DJ for over two decades the French artist has compiled an impressive resume. Releases for 1605, Suara and Toolroom sit prominently in his discography, while more recent outings for Area Verde, Freegrant Music and Perspectives Digital have continued his evolution within the world of melodic house and techno. Having made his Movement Recordings debut in June of this year with a remix of Lessovsky's Mueve', Da Fresh now returns to the label with the nostalgic sounds of Heyoka'.
France's Southwest region is home to our next label debutant Olffmann. First coming to our attention in 2017 with releases via his Palace Records imprint, Olffmann has grown immensely over the last four years. Freegrant Music, Hover Mind and ZEHN Records have been landing spots for his transcendent sound. Also, an accomplished DJ, the French artist has shared the stage with top international acts such as Fur Coat, Kiasmos and Mind Against. Now making his much-anticipated Movement Recordings debut, Olffmann delivers one of his most engaging productions to date in Freedom Of Your Mind'.
Selection six finds collection curator Wielki returning to the label for his fourth appearance. The French artist has risen from an era of synthesizer pioneers, creating a sound that is both musically rich and rhythmically fresh. Always looking to tell a story within his productions, the Paris resident has found a comfortable home on Movement Recordings having released three projects with the label over the last eighteen months. Joining Wielki and also returning to the label is Reig. Residing in Corsica, the French artist has been crafting a unique brand of melodic techno since first appearing in 2013. Releases on Aftertech Records, Steyoyoke and Traüm Schallplatten highlight his discography, while he remains a prominent figure in his country's nightlife, having performed alongside Agoria, N'to, Worakls, Etienne de Crécy and Simian Mobile Disco. Having delivered a stunning remix of Paul and Don's Hephaestus' in 2019, Reig now pairs with Weilki for the peak time jaunt Incandescenza'.
The collection concludes in fine fashion with Green Tolek who makes his label debut. Conceptualized in 2002, the Green Tolek project specialized in the synthesis of graceful leads using instruments like the Moog and other analog synthesizers. Drawing on a wide variety of inspiration from the likes of Moby, Bob Marley and The Doors, Green Tolek worked tirelessly in studio before unveiling his live show in 2016, one which he shared the stage with Ben Klock, Recondite, Victor Ruiz, Pig and Dan and Pleasurekraft. A plethora of releases soon followed, with landing spots of Aftertech Records, Aenaria Music and Vision 3 Records being the most notable. Now stepping up to Movement Recordings, Green Tolek presents the astral techno stylings of Secret War'. Perfectly constructed for a contemporary dance floor, it rounds the collection out on a strong note, and shows what a rich pool of electronic music talent France lays claim to.