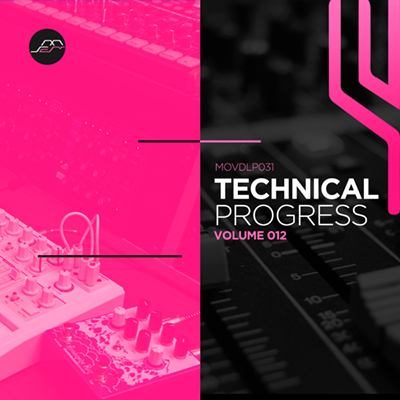 Artist: Various Artists
Title: Technical Progress, vol.12
Featured Artists: Stereo Munk & Dublew, Janika Tenn & Robiin, Andrea Cassino, Lio Q, Nicolas Leonelli, Amir Telem, HEIZEN (ISR), Mayro, Abhishek
Release Date: 20 May 2022
Supported by: Solomun, Adriatique, John Digweed, Dubfire, Armin van Buuren, Joris Voorn, Paul Oakenfold, Joseph Capriati, Kevin de Vries, Above & Beyond, Paul Van Dyk, Anja Schneider, BLANCAh, Massano, The Element, EarthLife, Losless, Olivier Weiter, 19:26, Enai, Raphael Mader, Fat Cosmoe, Grigoré, Dizharmonia, Paul Angelo & Don Argento, U S H N U, Wurtz, ao.
The latest release from Tash's Movement Recordings finds the label presenting a new installment of its 'Technical Progress' series. Conceptualized in 2010 these various artist showcases have grown into one of the underground's most critically acclaimed series, continually featuring some of electronic music's most highly touted artists alongside talented newcomers. With the eleventh edition of the series landing in March of last year with resounding success, Movement Recordings now presents the much-anticipated twelfth installment featuring exclusive material from (in order of appearance): STEREO MUNK and Dublew, Janika Tenn and Robiin, Andrea Cassino, Lio Q and Nicolas Leonelli, Amir Telem and HEIZEN (ISR), Mayro and Abhishek.
Getting the release underway and making their label debut are STEREO MUNK and Dublew. As frequent studio partners, the Pakistani duo share an impressive resume, showcasing their deep, organic sounds through 3rd Avenue, Nature Rec, Juicebox Music and Soundteller. Their latest creation and Movement Recordings debut 'Bamyan' proves to be one of their best to date with smooth voluptuous grooves, exotic drum arrangements and a wealth of whimsical effects ultimately fueling a dreamy eight minute journey.
Presenting selection two and also making their label debut are Janika Tenn and Robiin. Hailing from Estonia and Mexico respectively, the duo have enjoyed success in their solo careers, both boasting impressive resumes highlighted by releases via Armada, Erase Records and more. Having recently collaborated on a single for Stashed Music, Janika and Robiin continue to build on that creative synergy with their Movement Recordings debut 'Ininna Tora'. Never bound to a particular genre blueprint or sound, the duo meld elements of afro house and melodic house and techno for a dark, exhilarating dance floor slam.
Moving into progressive minded territory with selection three are Andrea Cassino, Lio Q and Nicolas Leonelli. Hailing from the progressive music mecca of Argentina, this trio of talented artists have all found favour with the genre's premiere tastemakers Hernan Cattaneo and Nick Warren, while boasting a collective resume with releases via Clubsonica Records, Droid9, Proton Music, UV and more. Now uniting for a special collaborative project, the trio flexes their creative muscles with the deep, cross-cultural sounds of 'Khevar'. Soulful and melodic in equal measure, the near ten-minute journey delights with voluptuous grooves, meditative arps and a transcendent vocal which is sure to captivate your dancefloor.
Marking the collection's halfway point are Amir Telem and HEIZEN (ISR) who make an impressive label debut. Famed for releases via Asymmetric, Ein2, Freegrant Music, Harabe, Kindisch and more, the Israeli duo who have remixed each other in the past now present their first collaborative effort 'Fearless'. Both noted for their imaginative works, 'Fearless' follows suit with a fascinating blend of melodic projections, ghostly vocals and acid-tinged chord stabs; all of which unite for a journey that lands comfortably in-between soundscape science and surrealist design.
Moving forward in the progressive spectrum, selection five finds Mayro making his label debut. Based in Argentina, Pablo Maneiro aka Mayro has been producing a blend of progressive house,
deep and melodic house for the better part of a decade. World class DJs Cid Inc, Eelke Kleijn, Miss Monique and Nick Warren have all taken a liking to his sound, which has found a home on Lowbit, Siona Records and his own Traful imprint. Now adding Movement Recordings to his resume, Mayro debuts on the label with the groovy sounds of 'Panorama'. A dizzying dance floor creation powered by punchy kick drums, crunchy rhythms and psychedelic effects. Packed to the hilt with drama, its adventurous spirit is something Mayro relishes in, as he flexes a trippy side of his studio repertoire.
The release concludes with Abhishek making his label debut with 'Ibtida'. Hailing from India and presenting his first officially released production, Abhishek gets his career as an artist off to a great start here. Well inline with the collection's deeper, atmospheric lean; 'Ibtida' impresses with its marriage of wobbly rhythms, growling synths and mind-bending effects, all backed by a warm, pulsating groove, underpinning the track and translating its spiritual message to the dance floor. It rounds out another superb edition of 'Technical Progress', continuing what would have to be considered Movement Recordings' best year to date. Highly recommended.