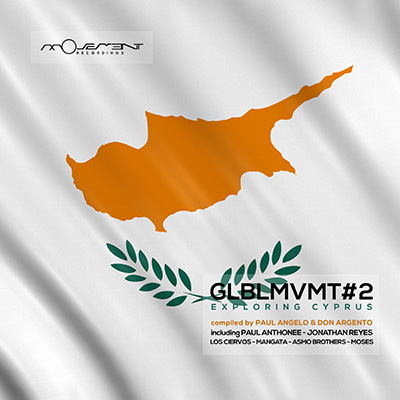 Artist: Various Artists
Title: Exploring Cyprus
Release Date: 29 April 2019
Supported by: D-FORMATION, Steve Parry, D-Nox, Luigi Madonna, U B B Λ H, Mike Griego, Lonya, Graziano Raffa Dj, Paul Anthonee, Dizharmonia, Yost Koen, Black8, Aly & Fila, Betoko, MATAN CASPI, Anthony Pappa, Nicolas Rada, JOBE, Chris Fortier, BLANCAh, Marino Canal, Darko Milosevic a.o.
The latest release on Tash's Movement Recordings finds the label showcasing the second installment of its 'GLBLMVMT' series. These region specific showcases were first unveiled in August of 2018 with Federico Monachesi curating the progressive hotbed of Argentina. Now travelling to Cyprus, Movement Recordings have called up scene stalwarts and Cyprus natives Paul Angelo and Don Argento to compile the second edition. Featured on the collection are: ASMO Brothers, Jonathan Reyes, Los Ciervos, Mangata, Moses Moiseos, Paul Anthonee and the duo themselves Paul Angelo and Don Argento.
Getting the release underway are Jorge Plata and Andreas Shialaros aka Los Ciervos who make their label debut with 'Odissei'. The duo are known for their astral techno sound and craft a deep, cosmic piece that delivers on several levels. Pulsating from the outset, it's driving cadence is accented with meditative arps and metallic designs that perfectly transition the piece into an otherworldly break, fully saturating your senses before a timely drop brings on a fiery finale. It begins the journey on a positive note and segues nicely into 'Psychosis ' by release curators and progressive house savants Paul Angelo and Don Argento. Having become favourites of Hernan Cattaneo and Nick Warren in recent years the duos inimitable style shines once again here. Although known for more peak time creations, 'Psychosis' has a deeper and more contemplative sensibility. Tough yet emotional, it's punchy groove carries a fluid cadence as waves of percussion and wistful atmospheres lead into a poignant and somewhat cinematic break that sits at the heart of the piece. Next up is Movement Recordings artist Paul Anthonee who returns following his remix of 'Never' by D-Nox, Uone and Western. Here Paul contributes the mystical 'Omicron' which ultimately carries the spacey techno qualities of the release. Darker undertones power the tough yet fluid groove while esoteric synths and frayed sonics should make for some epic dance floor moments.
Selection four welcomes Jonathan Reyes to the label with his latest studio creation 'Un Typo'. After studying Electronic Music Production at SAE in the Netherlands, Jonathan returned to his homeland and has quickly made a name for himself, performing alongside Adriatique, Deborah De Luca, Armin van Buuren, Agents Of Time and James Zabiela. Known for his dark, melodic sound, Jonathan's contribution here follows that ethos perfectly. Tough and foreboding from the outset it's a piece to quickly change the mood of a room. Grinding arps and percussive flurries build sizable amounts of tension before a wonky lead theme elevates the piece into astral territory.
At the release's halfway point we have Mangata making his label debut with 'Crossroads'. The Limassol based artist provides a dubby, spaced out techno piece that shifts the vibe nicely from the previous two stormers. Full of subtle shades and tones, it's a thought provoking seven minute journey to explore your deepest memories. Now winding down to selection six Movement welcomes George Nicodemou and Panagiotis Christophi aka the ASMO Brothers. Their aptly titled 'Pure Magic' is a playfully melodic number with a variety of poignant motifs which intertwine over a bed of tough beats and rippling grooves. It continues the journey with more of an uplifting quality and segues nicely into the collection's closer 'Omicron' by Moses Moiseos. A two decade long career has seen Moses perform alongside Artbat, D-Formation and a long list of international talents. Stylistically diverse, on 'Make a wish' we find Moses continuing the techno minded ethos of the collection with a tough, stomping creation that's primed for dance floor destruction. Frantic yet hypnotic, it's a carefully detailed piece with timely drops and modulation for what results in an unpredictable journey. Perfectly dialled for a dark room it rounds the collection out on a strong note and shows what a rich pool of electronic music talent Cyprus has. Don't miss it.