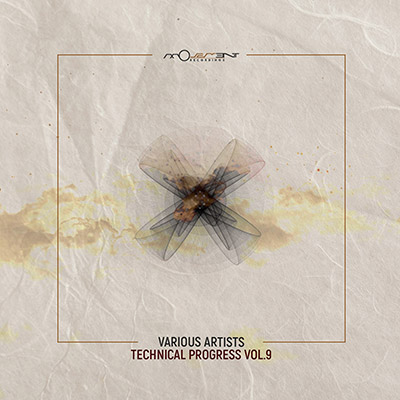 Artist: Various Artists
Title: Technical Progress vol.8 (Compilation)
Release Date: 17 December 2018
Tash's Movement Recordings rounds out 2018 with the latest installment of their 'Technical Progress' series. Conceptualized in 2010 with the intent of showcasing cutting edge electronic music, the series has grown into one of the underground's most critically acclaimed collections. Now embarking on their ninth edition, Movement invites (in order of appearance) Undefined (MT), Cedren and Manu-l, Mark Finkel, Stylo, Forniva, Eleven Sins, Kostas Skretas and Theodore Ali, Diogo Ribeiro, Stergios Sigma and MikeT and Alejandro Manso to round outthe year in style. The release begins with the deep, sultry sounds of 'Hasira' by Undefined (MT), Cedren and Manu-l.


Beginning with a tight percussive cadence and mystical atmospheres the piece evolves into an arp driven slice of hypnotic progressive heaven. Not without emotive moments, the mood shifts once more with a heartfelt break, perfectly transitioning the piece into a celestial finale. Next up is a collaborative effort from Mark Finkel and Stylo who contribute a trippy creation entitled 'Different Worlds'. Aptly coined, it's a piece set to transport your dance floor into an otherworldly state. Wonky synth clusters coupled with a rough and uniquely modern groove make this an unforgettable creation. This dark, mysterious ethos continues with 'Blue Tone' by Forniva and Eleven Sins. The sometime studio partners paint a dramatic sonic collage across the first act, before a poignant break elevates the mood for a heady finale of free flowing arps and ghostly vocal edits. The collaborations continue with Kostas Skretas and Theodore Ali presenting their latest studio creation 'Black Mirror'. The Greek duo once again craft something unique, exciting and tastefully poignant. Beginning with a dark, brooding underbelly it's a piece that moves subtly into emotive territory, as symphonic atmospheres descend over the framework, perfectly setting up a break of dulcet tones, before a rhythmic drop seals it's brilliance. Movement Recordings artist Diogo Ribeiro is next with the much anticipated 'Resist'. Already a highlight in the Portuguese artist's sets, it's a tightly wound production perfectly dialled for the dance floor.
Tough beats, grainy percussion and timely chord stabs make for a vibrant, bouncy jam, before an indistinct vocal narrative drives the piece into trippier territory. Two more Movement Recordings alums in Stergios Sigma and Mike T are next with the tough and driving 'Rate of Return'. With a compelling narrative and modern design it picks up momentum quickly as metallic percussion fires before a trail of effects gives way to a spooky lead theme. A unique creation which leads to the seventh and final selection from long time Movement Recordings artist Alejandro Manso. The Mexican producer always seems to save his most precious creations for the Greek imprint and his latest entitled 'Hoax' is no is different. It's quirky themes and funky groove complement each other perfectly for what results in a unique and inspired journey. Adding to the storyboard is abuzzing break, uppingthe tension in a timely fashion before a twisted finale follows suit. It rounds out another superb edition of Technical Progress, capping off what would have to be considered Movement Recordings' best year to date. Highly recommended.