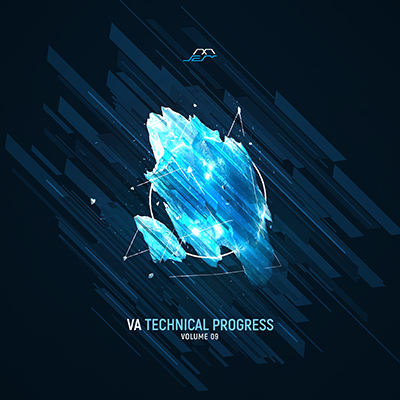 Artist: Various Artists
Title: Technical Progress
Release Date: 15 July 2019
Tash's Movement Recordings begins the summer season with the latest installment of their 'Technical Progress' series. Conceptualized in 2010 these various artists showcases have grown into one of the underground's most critically acclaimed series, continually featuring some of electronic music's most highly touted artists alongside talented newcomers. Now embarking on their ninth edition, Movement invites (in order of appearance) Amir Telem, Vlad Jet, Hannes Wiehager and Chaum, Martin Tolosa, Isaac Differding, Ad_Mark and Haris Kate to continue the esteemed series.
The release gets underway with the driving, techno inspired sounds of 'Guru' by Amir Telum. Beginning with a warm punchy groove and wonky motifs the piece evolves with astral effects and indistinct vocals advancing the storyboard. Smooth chord changes bring emotive moments as tension continues to build, before a spaced out break adds further intrigue to this dramatic gem.
Next up is Vlad Jet who makes his label debut following releases on Beatfreak, Dear Deer and Lost On You. Aptly coined, 'Orient' is a piece set to transport the listener into an eastern state of mind with cross-cultural motifs and exotic drums. Tightly wound arps along with heavy stabs and cosmic designs perfectly set up an otherworldly break, advancing the narrative into tension filled territory, before a timely drop ushers in an exhilarating finale.
The journey shifts gears with the deeper 'Sunday Trip' from Hannes Wiehager and Chaum. Hailing from Sweden and Greece respectively the duo present a mystical creation driven by hazy harmonics and fluid rhythms. Classic chord changes add a poignant air to the dramatic overtones, before eventually getting washed away in favour of fresh designs and a purring finale.
Martin Tolosa continues the string of label debutants with the driving 'Unprocess'. The Argentinean artist maintains the dark ethos of the collection with a brooding underbelly and buoyant rhythms. Not without emotive moments, the storyboard evolves with delicate arps and distinctive vocal stabs setting up a tense yet poignant break, one which is sure to capture the full attention of your dance floor
With past releases on 3rd Avenue, PHW Elements and Soundteller Records, it's Isaac Differding who provides the collection's fifth selection. Staying in Argentina the Mar Del Plata resident once again crafts something unique with the spacey 'Split Soul'. Smooth and tastefully poignant, it's a meditative trip backed by a tough beats, redolent rhythms and frayed sonics, the latter of which descends over the framework, perfectly setting up a break of dulcet tones, before a buzzing drop seals it's brilliance.
Selection six finds Athens based artist Ad:Mark also making his Movement Recordings debut. The Greek artist delivers his most accomplished work to date with the peak time creation 'Fantasia'. Punchy beats immediately command your attention following a tense yet rhythmic intro. With a pensive narrative and modern design it picks up momentum quickly as metallic percussion and electric designs fill in the framework. The main break only furthers it's dark, astral leanings, as raspy synth hooks piece the air before the gigantic groove drops for an intense final act.
The release concludes with Greek native Haris Kate who winds the collection down with the moody 'Paracas Nazca'. Reflective yet groovy, it's an introspective piece with deep emotions and a mysterious storyboard. One which continues to excite across it's eight minute journey, before elegantly peaking through wonky keys and buzzing tonal tension. It rounds out another superb edition of Technical Progress, one which arrives just in time for the summer festival season and continuing what is one of the underground's most anticipated compilation series. Highly recommended.