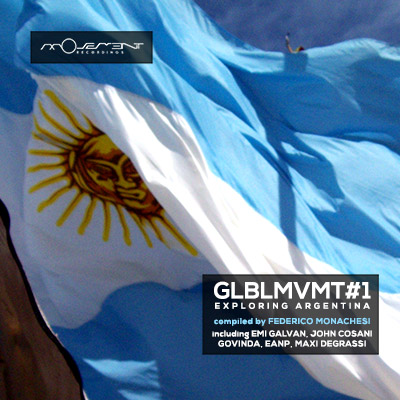 Artist: Various Artists - Maxi Degrassi, Govidina, EANP, Federico Monachesi, John Cosani and Emi Galvan.
Title:  GLBLMVMT#01 - Exploring Argentina
Release Date: 27 August
Supported by: Petar Dundov, Frankey & Sandrino, Cid Inc, Paco Osuna, BOg, Matt Darey, Dale Middleton, Barry Jamieson, Tripswitch, Marc DePulse, Darin Epsilon, Eelke Kleijn, Gai Barone, Lonya, Stereo Underground, JOBE, ao
The latest release on Tash's Movement Recordings finds the label showcasing the first installment of its 'GLBLMVMT' series. These Various Artists showcases will be region specific and focus on the freshest electronic music talents. The inaugural edition of the series explores one of the world's most talent rich country's Argentina. Featured on the release in order of appearance are: Maxi Degrassi, Govidina, EANP, Federico Monachesi, John Cosani and Emi Galvan.
Returning to the label for his third appearance and leading the collection off is Maxi Degrassi. The Buenos Aires resident goes deep with 'Tristana' which likely sits as his all time best work. Backed by a warm, spacious groove it's serene atmospheres and dulcet motifs make for a tepid seven minute journey. Next up Govinda returns to the label following his 'Curuzu' EP with a brand new production entitled 'Eucaliptus'. It's buzzing low end immediately sucks you in with fluid chord changes and bulbous character. Cascading tones add a haunting vibe before a fiery arp seals it's brilliance. Next up and making their label debut are EANP aka Ezequiel Anile and Nicolas Petracca. Although the duo have been working together since 2014 it was only this year which saw the creation of the EANP moniker. With an EP for Movement already in the pipeline we get a taste of what's to come with 'Before I Fall'. Deep and punchy from the outset it's a piece built on dark electronics and ominous atmospheres. Running through a variety of motifs from vocal stabs to tension filled tones, it reaches an emotional peak during the break with hopeful pads and a sizzling build to light up your dance floor.
The halfway point of the collection finds Federico Monachesi also making his label debut with 'Raspberry Lagoon'. Full of vibrant tones, blissful harmonics and warm designs it's a wondrous nine minute journey for the heart and mind. It's smooth storyboard and effortless approach are perhaps it's strongest suits, making it ideal for a magical sunrise set. Next up is Movement artist John Cosani who returns for his fifth appearance with 'Urban Joy'. Deeply hypnotic, with both progressive and deep sensibilities, it melds genres wonderfully. An array of stunning motifs advance the storyboard, with soulful strums, tranquil arps and haunting atmospheres delivering great moments along the way. The release concludes with Emi Galvan returning to the label for his third appearance which follows a remix of 'Abyssal' by Dimuth K in August of last year. Now following a remix for Manual Music, Emi returns to Movement with his latest creation entitled 'Trappist'. A warm, perfectly sculpted low end brings funk and roll across a bouncy first act. Cross cultural motifs and buzzing synths then converge for a mystical vibe before the narrative unfolds during a soulful and musically inspired break. An impassioned production from Emi which rounds out the first edition of Movement's 'GLBLMVMT' series in style.