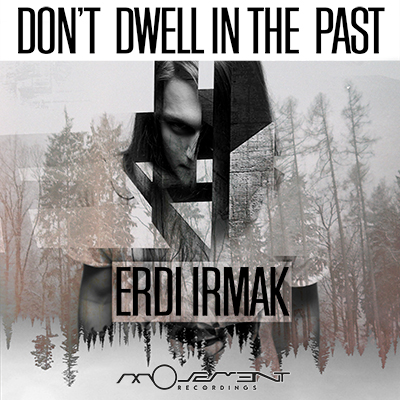 Artist: Erdi Irmak
Title: Don't Dwell in the past (Artist Album)
Release Date: 15/06/2015 
Supported by: NIck Warren, Soundexile, Dale Middleton, Andrea Cassino, Stas Drive, Sonic Union, Nick Varon, Nikko.Z, Switchbox, Peter Martin, Frangellico, Michael A, Dmitry Molosh, ao..

Erdi Irmak returns to Movement Recordings for his much anticipated new album entitled 'Don't Dwell In The Past'. The Turkish producer first appeared on the long standing Greek imprint in January of 2013 with 'The Secret Valley' EP. It was the beginning of a fruitful relationship which went on to yield two more EPs and two remixes over the next three years. Erdi's sound has always encompassed so much more than traditional dance floor sensibilities and his recent electronica based releases for Manual Music and Particles are evidence of that. Now following a near year long absence from the label Movement Recordings is presenting Erdi's brand new LP entitled 'Don't Dwell In The Past'.
The Turkish artist's sonic canvas has always been broad; his cross cultural influences and psychedelic motifs are just some of his much loved hallmarks, and he's out done himself once again on this eight track journey. Beginning with the laid back beats and serene textures of 'New Way' the LP weaves its way through a broad range of downtempo beats, moody narratives and heart-rending moments. The title cut 'Don't Dwell In The Past' is a fitting showcase piece with its granular textures, broken beats and poignant lead theme. It sets up the cinematic 'Fever' which proves to be one of Erdi's most emotional compositions to date. It's heavenly tones, growling bass textures and evolving synths would sound equally at home closing out a movie score as it would in a back room. The dusty guitars and indistinct electronics of 'I'm Done' are also a pleasure and present Erdi's design skills in a whole new light.
As the album reaches its half way point 'No.8' breathes a glowing radiance into the proceedings with serene synths and a bevy of vocal motifs. Erdi's captured a magical moment here and it's one which continues with 'The Window'. Set to a backdrop of rainy atmospheres and sandy textures it's a remarkable sonic excursion perfect for a lazy Sunday afternoon. The haunting harmonies of 'Unfeeling' inject a deeper emotion which it's cascading hooks play off remarkably well. The composition's extraordinary sense of flow is not only a pleasure to the ears but perfectly sets up the closing piece 'Without Me'. Ending a collection of music with such an expressive range is a delicate endeavour and one which Erdi has excelled at here. At its core 'Without Me' breathes immense strength, conveyed through its gated haze with heartfelt keys and a shimmering mist it's a production that captivates both your heart and mind. It's a fitting conclusion to a career best collection of music from Erdi who continues to stretch his sonic palette to fascinating depths.