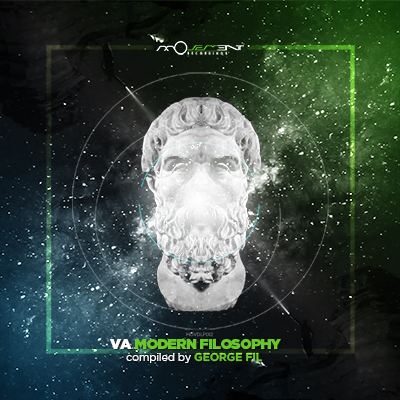 Artist: Various Artists / Compiled by George Fil
Title: Modern Filosophy
Release Date: 21/09/2015 
 The latest release on Tash's Movement Recordings finds the label showcasing a special exclusives compilation. On this edition Movement label boss Tash welcomes young Greek talent George Fil to compile the project. Played out over nine tracks, 'Modern Filosophy' features new music from Roni Iron, Stage Van H, Just 9eorge, Natural Flow, Tash & George Fil, Some Little Things, Tuxedo & Monojoke, Alejandro Manso and Dio S.
The release begins with Roni Iron's latest entitled 'Fading Flower' feat. Pelagia. The Greek producer showcases his deep, soulful sound wonderfully and the vocals of Pelagia prove to be absolutely exquisite. It's leads nicely into Movement Recordings co-founder Stage Van H who presents 'Summergroove'. As the title suggests the Dutch/Greek artist has once again crafted a warm, groovy track which bridges the deep and progressive genres flawlessly. Sparkling melodies and gorgeous vocal samples bring that beachside vibe and perfectly set up the third cut on the collection from Just 9eorge. The Greek producer made his Movement Recordings debut a memorable one when Nick Muir featured 'Barbouni' on John Digweed's his much loved Transitions radioshow. Here Just 9eorge presents 'This Day' which is another deep and sultry creation, led by a wealth of catchy vocal hooks and distinctive Mediterranean motifs.
The Sampler's fourth selection finds Hugo Ibarra and Antu Coimbra presenting their brand new collaborative project under the moniker of Natural Flow. Hailing from Mexico and Argentina respectively the duo deliver their first ever production under the 'Natural Flow' alias entitled 'Say Our Name'. It's deep overtones, mystical vibes and tripped out approach are a breath of fresh air and certainly lay down a high standard for all future productions. Next up we find Movement Recordings label boss Tash teaming up with the aforementioned A&R of the project George Fil. 'Vigilance' marks the first joint production from the Greek pair and it's turned out wonderfully. Following a dark, ominous beginning the piece takes you on a profound journey of emotion with indistinct melodies, spaced out designs and fresh beats which are sure to sound wicked on the dance floor. Following that comes the latest original from Some Little Things entitled 'La Maria'. Leandro Moyano & Matias Medina make up the Some Little Things duo and have delighted deep progressive fans all through 2015 with releases on Dopamine Music, Just Movement and System Recordings. For their Movement Recordings debut the duo present 'La Maria' which once again brings that enchanting sound we've come to expect. Smooth hypnotic lines, meandering motifs and a tough framework make it another on the money production for the Argentinean duo.
The final third of the collection begins with a new production from Monojoke and Tuxedo. The Polish duo have worked together in past with great results and both have legions of fans for their solo work. Here we find the duo crafting 'Namaste' which comes with a full and alluring progressive sound. Anchored by a driving groove the track flows effortlessly through several melodic motifs which come together for a memorable break and exhilarating third act. The collection's second last track is provided by Alejandro Manso who is fresh off his amazing 'Mythologies' EP from just last month. Here we see Alejandro presenting 'Family Values', a deep progressive roller with wonderful progression and smooth hypnotic lines. It leads perfectly into the collection's final piece, the now classic Dio S remix of Weepee's 'Overlay'. Originally released in July of 2011 the chugging progressive beauty delighted fans of the genre for months afterword's and still sounds quite fresh for the up-tempo floors out there. A great way to round out another top notch collection of music from Movement Recordings. Don't miss it.


Artwork by MJD Creative
Distribution by Proton LLC
Mastering by Rogier Schouten
Press Release by Mitch Alexander
www.movement-recordings.net
www.facebook.com/movementrec
www.soundcloud.com/movement-recordings
Distribution by Proton LLC
Mastering by Rogier Schouten
Artwork by MJD Creative
www.movement-recordings.net
www.facebook.com/movementrec
www.soundcloud.com/movement-recordings