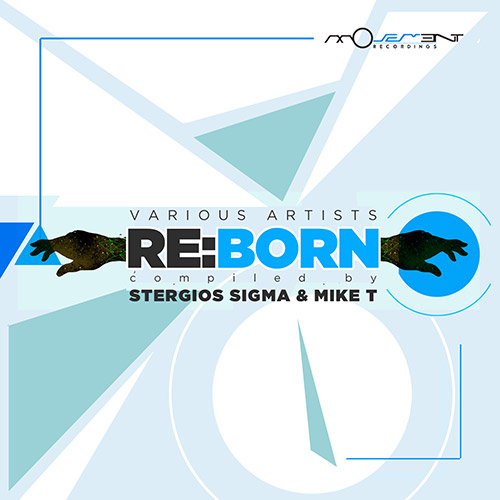 Artist(s): Various Artists
Compiler: Stergios Sigma & Mike T
Title: Re:Born (Unmixed Compilation)
Release Date: 08/06/2015 
Supported by: Hernan Cattaneo, Nick Warren, Nikko.Z, Blusoul, Magnetic Brothers, Frangellico, Dmitry Molosh, Michael A, Luis Bondio & more..!
Movement Recordings presents its latest exclusives sampler entitled 'Re:Born'. Compiled by the Greek DJ duo Stergios Sigma & Mike T 'Re:Born' is another highly anticipated installment into Movement's compilation series. The famed 'Technical Progress' collections have long been highlights in the labels catalog and Stergios and MIke have put together another impressive selection for 'Re: Born'. Featured on the release are brand new productions from: Pixels On Space, Tash, Alejandro Manso, Ziger, John Cosani, Weepee, Mariano Mellino & Maxi Degrassi, Yuriy From Russia, SEQU3L & Van Luup and Chris Drifter.
Leading the collection off is the mysterious Pixels On Space with 'Trinity'. It's deep and dubby techno grooves are incredibly hypnotic and lay down a wonderful atmosphere to begin your journey. Next up Movement Recordings label boss Tash reworks 'Retribution' from Hugo Ibarra and Simos Tagias. The original version was one of the standouts on the labels 'Technical Progress' Volume 4 collection and here Tash provides a fresh update. The Greek producer's deep and enchanting grooves have melded well with the powerful, rolling vibes of the original. Like all Tash productions the dance floor sensibility is quite high and the ethereal break proves to be the perfect centrepiece for the action. Next up is Alejandro Manso who ups the tempo with his latest entitled 'Impure'. It's an outstanding label debut for the Mexican producer whose deep and contemporary grooves are welcome on any project. Following a first act filled with powerful drive and subtle motifs the piece catches fire with a wealth of rhythmic elements which are sure to up the energy of any dance floor.
Harris Zigeridis aka Ziger has been one of the underground's most underrated producers in recent years. The Greek artist makes his long awaited Movement Recordings debut here with the infectious 'Circles'. Beginning with a warm, pulsating foundation the track slowly picks up momentum with hooky rhythms and long atmospheric sweeps. Highlighted by vocal edits and dazzling electronics the second act further shapes the piece for a rousing dance floor conclusion. Next up John Cosani makes his Movement Recordings debut with 'Cafe Amsterdam'. John is one of the fastest rising producers from the Argentinean scene. Appearances on SexOnWax, Clinique Recordings and Stripped Digital have all been exceptional and his latest 'Cafe Amsterdam' continues that strong momentum. John's sultry grooves are unmistakable and his detailed electronics carve out some exceptional rhythms. A second act of escalating atmospheres and smooth chord changes might be the highlight though and make for a great emotional ride.
The next selection is provided by Weepee who is returning to Movement Recordings for his sixth appearance. The Lithuanian producer has been a fixture of the progressive scene for many years and his discography boasts releases on Mooseekaa and System Recordings. Weepee's contribution to 'Re:Born' is entitled 'Continua' and it goes down as one of his all time best. It's stark beats and grinding rhythms lay down a sinister vibe early while the acid groove continues
to build tension. The main break pushes the anticipation higher with spooky vocal elements and alien-like electronics. A smooth build then summons the groove back which along with funkier rhythms that are sure light up your dance floor. This leads nicely into 'Maglos' by Mariano Mellino & Maxi Degrassi which keeps the deep and subversive grooves going. Phasing hypnotics, cross cultural vocal elements and scattered claps drive the piece into the main break where a siren-like horn builds tension. Flowing through a variety of stylistic shifts the break is a captivating centerpiece and perfectly sets up a tough yet spacey conclusion. Brilliant work from Mariano and Maxi.
Next up Yuriy From Russia returns to Movement Recordings for this third appearance with 'Please Destroy'. Beginning with tough beats and unique vocal clusters it's a track that picks up momentum fast. A break full of rumbling low end and trippy electronics paves the way for a strong second half where the distinctive vocal loops lead the way to an awesome finish. The energy then gets taken up several notches with SEQU3L & Van Luup's 'Nut Cracker'. Hailing from India and Sri Lanka respectively this is the first ever collaboration from this exciting duo and it's turned out wonderfully. Backed by a monstrous groove and punishing beats it's sure to have a huge presence on the dance floor. Long ominous sweeps and industrial hypnotics just add to the rolling power and ultimately take the track into an electric break which provides the biggest payoff on the collection. The compilation is closed out with Chris Drifter's 'Sourcecode' which finds the Hungarian producer with another perfect club construction. Chris' funky rhythms and pristine production polish is unmistakable and 'Sourcecode' might be one of his most genre bending creations to date. Fueled by housey rhythms and progressive minded melodies it puts a perfect cap on another outstanding collection of music from Movement Recordings. Don't miss it.