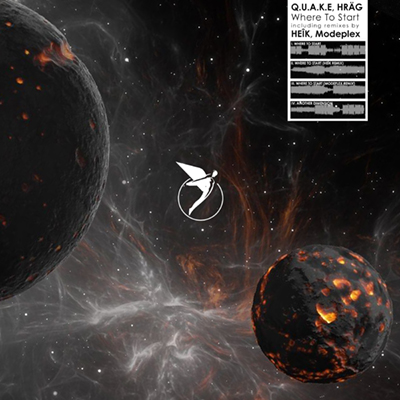 Artist: Q.U.A.K.E, HRÄG
Title: Where To Start EP
Remixers: HeÎk, Modeplex 
Release Date: 13 May 2022
Supported by: Solomun, Adriatique, John Digweed, Dubfire, Armin van Buuren, Joris Voorn, Paul Oakenfold, Joseph Capriati, Kevin de Vries, Above & Beyond, Paul Van Dyk, Anja Schneider, BLANCAh, Massano, The Element, EarthLife, Losless, Olivier Weiter, 19:26, Enai, Raphael Mader, Fat Cosmoe, Grigoré, Dizharmonia, Paul Angelo & Don Argento, U S H N U, Wurtz, ao. 
Astral Records closes out the spring season by welcoming Q.U.A.K.E and HRÄG to the label for their debut EP. Netanel Assaraf and Yakir Ohayon aka Q.U.A.K.E have been a fixture of the electronic underground for over a decade. Laying claim to an impressive resume, the duo has showcased their dancefloor minded sound via Freegrant Music, Timeless Moment and Miss Monique's Siona Records. Astral Records parent imprint Movement Recordings has also served as a landing spot for the talented pair, with two EP's and a remix coming courtesy of the Greek imprint across the last two calendar years. Meanwhile, DJ, producer and live performer HRÄG started his musical journey in 2017 at the age of 16 in which he became known for his unique energy in today's progressive and melodic techno scene. Today as a music producer, after years of perfecting his sound, HRÄG has been sharing his unreleased tracks with artists all around the world, collecting feedback and support, while in turn building new connections to take a step forward in his career. Now partnering up with Q.U.A.K.E for the first time, the trio make their Astral Records debut with 'Where to Start', alon0side remixes from HeÎk and Modeplex.
Beginning with the cutting-edge sounds of the title selection, Q.U.A.K.E and HRÄG marry ethereal vocals with crunchy rhythms and pulsating grooves. Evolving percussive arrangements and spastic effects add nicely to its otherworldly pulse, before shifting energy into an emotive break. Grandiose in nature, the centrepiece delights with shimmering arrays and striking stabs, perfectly complementing colourful swells as the groove drops for a charged finale. The companion piece 'Another Dimension' proves to be a perfect complement with its muscular grooves and thrilling lines. Astral fragments and devilish stabs dance amidst a maze of crisp percussion, while emerging melodies elevate mood as the main break approaches. Tense and emotive in equal measure, the interlude saturates your senses with evolving arps and striking tones taking centrestage, before reaching a powerful crescendo and menacing final movement.

Making his label debut and providing the first interpretation of 'Where to Start' is Heik. As one of the underground's most creative talents, the Mexican artist and ex-Oostil member has shaped a sound all his own. His avant-garde musicality and fresh design qualities have led to signings on Afterlife, Atlant and Oddity, while Fur Coat, Mind Against and Tale of Us remain steadfast supporters. Now stepping up for his Astral Records debut, Heik dials in a heady rendition of 'Where to Start'. Spanning seven intense minutes, Heik's consciousness-expanding conversion of musical ideas resonates on a profound level, as he effortlessly melds rugged dance floor minded grooves with fiery percussion and otherworldly effects. Reprocessed for aural enlightenment, the primary themes drift across the rumbling framework, weaving their way through an unpredictable array of atmospheric swells and melodic fragments, before a timely break spearheads an enlightening apex and intergalactic finale.

Also making his label debut and providing the second and final interpretation of 'Where to Start' is Modeplex. For the better part of a decade the German artist has been pushing his genuine take on melodic house and techno through releases via Beatfreak, Steyoyoke, Stil Vor Talent and Timeless Moment. Now following a well-received release for Artminding tp begin the year, Modeplex makes his Astral Records debut with a stunning rendition of 'Where to Start'. Taking a cue from the original, the German artist crafts a shapely groove and rolling rhythmic core. Gaining momentum across the first act, the piece flows through striking chord stabs and devilish effects, before shifting energy into a haunting break. Otherworldly in nature, its hypnotic state of mind melts down into a wave of fragmented melodies, rising with each successive loop, before a timely drop reveals the pulsating groove for a magical dance floor moment. A powerful remix from Modeplex, which rounds out an impressive Astral Records debut for Q.U.A.K.E and HRÄG.